Brit Hume Gives Bill O'Reilly A Tutorial On The 'Giant Message Board' That Is Twitter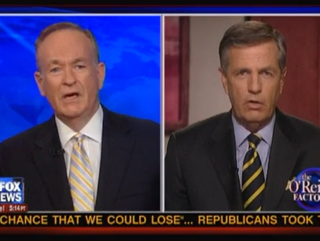 Tomorrow night, NBC's Jimmy Fallon will be sitting down with President Obama for a conversation on his light-hearted late night comedy show– this, coupled with Jay Leno's assertion last night that Republicans have better senses of humor than Democrats led Bill O'Reilly to ask Brit Hume tonight what the appeal for the President would be of visiting Late Night. In an attempt to explain how videos go viral, O'Reilly ended up prompting Hume to explain to him how Twitter works and the appeal of getting instantaneous updates from hundreds of people, a possibility that seemed somewhat daunting to O'Reilly.

RELATED: President Obama To Appear on Late Night with Jimmy Fallon This Week
Hume began by explaining that "the entertainment media will definitely be a factor for Obama" because of his strong youth voter turnout numbers in 2008, an enthusiasm Hume predicted was "probably not there for him this year because of the jobs picture." O'Reilly noted that yougner voters stay up later, and Fallon, who "is on at 3 in the morning or something" also got a larger audience through the internet. "Whatever he says… goes out into the Tweeter world," O'Reilly explained, a comment that Hume had to object to. How could O'Reilly pretend to not know what Twitter is when "I see your stuff on Twitter all the time!" O'Reilly joked that "that's my evil twin" on Twitter, and Hume tried to explain the appeal.
"It's a giant message board," he explained, "limited to 140 characters– not 140 words." O'Reilly then gave an example of what he would do if he were using Twitter: "So I'm carrying around my little Blueberry or Blackberry or whatever berry it is, and I get Twitter stuff coming in on that?" O'Reilly then asked whether you have to "sign up" to get updates from people, and specifically, Hume. "If I want to find out where to get a nifty pocket hanky, I Twitter Brit Hume and I can find out immediately?" he asked. "You don't 'Twitter' me, you 'tweet' me," Hume corrected, once again trying to explain the reach of anything said n the medium. Hume noted that he followed about 200 people on Twitter, which scandalized O'Reilly. "You have 200 human beings sending stuff into your brain?!" he asked shocked. Hume assured him that it "depends on how much people are sending" at any given time, and tried to once again convince him to give it a try: "if you ever start doing it yourself, you'll have a ball."
The segment via Fox News below:

Have a tip we should know? tips@mediaite.com