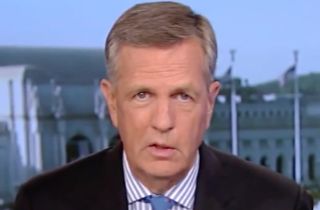 Fox News' Brit Hume called out Ted Cruz as an "obvious hypocrite" tonight for attacking Mitch McConnell while refusing to say a bad word about Donald Trump.
Even as almost all of his Republican rivals have criticized Trump in one way or another, Cruz has repeatedly refused to do so. He defended Trump's remarks about Mexican immigrant criminals, and when it came to Trump's attack on John McCain, Cruz praised McCain's service but refused to express even polite disagreement with Trump's statement.
There's been some speculation that Cruz has been doing this to claim Trump's supporters if/when he flames out, and Cruz was even confronted on the very subject. But Cruz has repeatedly said he won't play into the media's game of Republicans attacking other Republicans.
Well, late last week, Cruz attacked the Senate Republican leader, Mitch McConnell, for allegedly lying to Republican senators about not making a deal for a vote on the Ex-Im bank. Not only did Cruz's Senate colleagues say he's not being accurate, but they scolded him for attacking a fellow senator––let alone a fellow Republican––like that.
All this was preface to Hume's Special Report commentary tonight, tying that to Cruz's refusal to criticize Trump:
"[Cruz] insisted his stance was born of fidelity to the so-called 11th commandment, made fampus by Ronald Reagan, thou shalt not speak ill of any fellow Republican… Two days later, Cruz was on the Senate floor calling Republican leader McConnell a liar… It may have shown Cruz to be an obvious hypocrite, but for one day, at least, he Trumped Trump, and that means mission accomplished."
Hume also got a bit combative on Twitter earlier today pointing out how almost no one is backing up Cruz on his claim:
@TreyMays @washingtonpost We've been trying to find a single Senator to confirm what Cruz claims McConnell told them all. So far, nada.

— Brit Hume (@brithume) July 27, 2015
@TreyMays @washingtonpost So it's 99 liars and one truth teller? Sorry, but that's not a plausible theory. That's a conspiracy theory.

— Brit Hume (@brithume) July 27, 2015
@TreyMays Good rule of thumb: don't claim as facts things you can't confirm. And calling someone a liar is impugning his character.

— Brit Hume (@brithume) July 27, 2015
Here's a link to a definition of "impugn." Sorry, but it fits. http://t.co/yPBz26aUGy https://t.co/TJR2L3EanA

— Brit Hume (@brithume) July 27, 2015
Watch the video below, via Fox News:
[image via screengrab]
— —
Follow Josh Feldman on Twitter: @feldmaniac
Have a tip we should know? tips@mediaite.com
Josh Feldman - Senior Editor