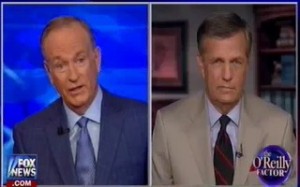 On Monday night, Fox News Channel's Bill O'Reilly discussed the Democratic party's selection of former President Bill Clinton to deliver the keynote address to their presidential nominating convention in the late summer. Fox News political analyst Brit Hume called the selection a "distress call" and said this indicates how concerned President Barack Obama's campaign is about his reelection prospects.

RELATED: Obama Campaign Plays With Fire By Embracing Popular, Iconoclastic President Bill Clinton
O'Reilly said that the Obama campaign was "wisely" trying to associate themselves with a popular past Democratic president, but Hume did not agree with that assessment.
"What I'd say is you could describe the Bill Clinton roll at the convention in three letters: S.O.S.," said Hume.
Hume said that Clinton chose the opposite governing course after his party lost control of the House in his first term's midterm elections and President Obama's relationship with Clinton since taking office has been "tenuous and distant."
"Clinton has proved to be a remarkably unreliable surrogate, doing such things in the middle of anti-Bain attacks as saying that Romney had a 'sterling business record,'" said Hume.
"Barack Obama is in very, very serious reelection trouble," Hume continued. "Clinton has credibility with swing voters of a kind that Barack Obama is losing and so I think he thinks they can get some help from him."
O'Reilly and Hume speculated whether Clinton would go off the reservation in his keynote address to the convention and say something that either disparaged the President or praised GOP presidential candidate Mitt Romney. They both said that was unlikely but, "you cannot control the big dog," said Hume.
"Make no mistake about it, Bill. This is a distress call," Hume concluded.
Watch the segment below via Fox News Channel:
> >Follow Noah Rothman (@Noah_C_Rothman) on Twitter
Have a tip we should know? tips@mediaite.com