Brit Hume Slams Hillary Clinton's Tenure At State With A Laundry List Detailing Her Mediocrity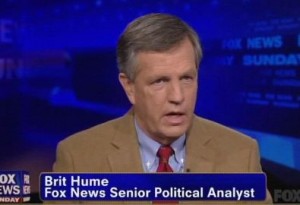 Fox News Channel Brit Hume contributor took issue with his colleagues on Sunday when he said the effusive compliments that Secretary of State Hillary Clinton has been showered with are largely unearned. He launched into a monologue in which he outlined why Clinton's tenure at State has been decidedly mediocre – "competent," but not great. After his detailed list, Hume was confronted by Juan Williams who accused him of underestimating Clinton and President Barack Obama's first term accomplishments.

RELATED: Obama And Hillary Clinton To Sit Down For First Joint Interview With 60 Minutes
Wallace asked what the significance of the joint 60 Minutes interview with President Obama and Hillary Clinton could be for her 2016 prospects.
"The 60 Minutes forum has been pretty friendly to him," replied New York Times reporter Jeff Zeleny. "It's not an endorsement per se, but it certainly, sort of, looks like that."
Wall Street Journal editorial board member Kimberley Strassel said that Clinton's testimony this week before Congress regarding her knowledge of the Benghazi attacks was a political success for her. "I think this was an attempt to, kind of, build on that, move beyond it, talk about Hillary Clinton's legacy as a whole rather than that vent," she said.
Wallace noted that Clinton's Capitol Hill testimony was marked by praise of her service as the Secretary of State from both Republicans and Democrats.
Hume replied by saying that Clinton has a strong case to make for her competence but not greatness:
You look across the world now at the major issues: are Arabs and Israelis closer to peace? How about Iran and North Korea and their nuclear programs? Have they been halted or seriously set back? Has the 'reset with Russia,' which she so famously introduced with a photo op in Moscow with the reset button, has that led to a new and more cooperative relationship? Is there a Clinton doctrine that we can identify that she has articulated and formed as Secretary of State? Are there major treaties that she has undertaken and negotiated through to a successful conclusion? I think the answer to all those questions is that she has not, and those are the kind of things that might mark her as a great Secretary of State.
"She does her homework. There have been no gaffes or blunders, so I think she's been a capable and hardworking Secretary of State," Hume concluded. "But I think the case for her being a great Secretary of State is exceedingly weak."
Williams took issue with what Hume said, noting that Clinton has helped spread Democracy to the Middle East in the wake of the Arab Spring. She also helped assemble the alliance structure prior to the intervention in Libya.
"How's that working out for us," Hume asked, citing the chaos in Libya. Crosstalk followed.
Watch the segment below via Fox News Channel:
> >Follow Noah Rothman (@NoahCRothman) on Twitter
Have a tip we should know? tips@mediaite.com