Brit Hume: President Obama Has 'Good Reason' To Prefer A Campaign Against Gingrich
Brit Hume: Obama Has 'Good Reason' To Prefer A Campaign Against Gingrich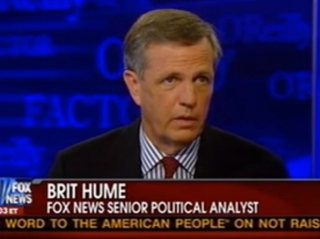 While the latest polls are showing that, in light of Herman Cain's exit from the presidential race, Republicans are increasingly confident in running with former House Speaker Newt Gingrich, though not everyone agrees. On The O'Reilly Factor tonight, Brit Hume argued the point that too many voters don't remember what Gingrich was like as Speaker, making him a ticking time bomb President Obama and his campaign would love to detonate in the general election.
RELATED: Newt Gingrich Releases First TV Ad On 'The America We Love'
"It seems clear they would rather run against anyone but [Mitt] Romney," Hume told host Bill O'Reilly, particularly because their attacks had been aimed at him. O'Reilly asked him to compare that to whether the Obama campaign would like to run against Gingrich, to which he replied enthusiastically, "Would they ever! And with good reason." He noted that Gingrich was "the only Speaker in history to be sanctioned for an ethics violation," and that after that scandal was over, "he was the object of a mutiny within the Republican ranks in the House" and was "ultimately forced to resign as Speaker and resign from Congress itself." That history, Hume argued, will be new to young voters and have a signficant impact.
O'Reilly took the self-professed "devil's advocate" role and argued that the struggle that led to the mutiny (and a shutdown of the government) was an attempt to keep spending at a minimum, and that Gingrich could say "I did the right thing back then by trying to get spending under control." That to Hume did not diminish the opportunities to "demonize" Gingrich from the left.
RELATED: Heartwarming? Newt Gingrich Gets Donald Trump To Apprentice "Very Poor" NY School Children
As for Gingrich's renowned ability in debates, which Hume admitted some conservatives were "salivating" over, he considered it hit or miss at best– he could either win a debate with the President, or "suddenly blurt out, quite unexpectedly, something you never expected him to say– something you never knew he thought– and then you have a big problem on your hands."
Ultimately, Hume did not appear to be convinced that Gingrich's record was something that the candidate could surpass as a nominee. While noting that there was a wing of the right that argued that the President was so weak coming into the election that Republicans could get away with not running a moderate, the Speaker's history was simply unconvincing to Hume.
The segment via Fox News below:

Have a tip we should know? tips@mediaite.com