Brit Hume to O'Reilly: Talk Radio Hosts Driving Republicans to Embrace 'Suicide Missions'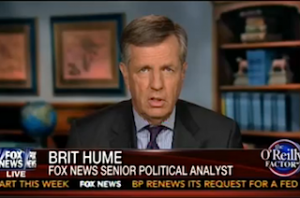 As if the conflict between Fox News and conservative talk radio wasn't bad enough, Brit Hume stoked the flames on The O'Reilly Factor last night by claiming that figures like Rush Limbaugh are forcing House Republicans to pursue what is widely seen as a doomed effort to "defund" Obamacare.
While he wouldn't go so far as to say conservative radio hosts are "calling the shots" in Congress, he did say that they have used their "real influence" to promote primary challengers against what they view as insufficiently conservative incumbents. "Keeping radio talk show hosts off their back" Hume said, "is one way" for members of Congress to avoid that fate.
As Bill O'Reilly summed up Hume's point, "You believe that in Congress, if somebody has to run every two years as they do, and they get on the wrong side of a powerful radio voice… they can really do them bad damage if they promote the other guy."
Hume made pains to clarify that he doesn't think talk radio "controls" Congress, but it is a factor in their political calculus. "If you are sitting over in the House of Representatives and some measures of defund Obamacare comes along," Hume explained, "and you think it's a suicide mission because it might involve a government shutdown, you are going to be hesitant to oppose it anyway because you don't want the most conservative–you don't want the tea party and you don't want the conservative radio talk show host on your back."
O'Reilly then suggested that Sen. Ted Cruz (R-TX) has developed an "alliance with some conservative media people" in order to avoid the criticism felt by some of his more moderate colleagues and set himself up for the 2016 presidential election.
Watch video below, via Fox News:
[photo via screengrab]
— —
>> Follow Matt Wilstein (@TheMattWilstein) on Twitter
[photo via screengrab]
— —
>> Follow Matt Wilstein (@TheMattWilstein) on Twitter
Have a tip we should know? tips@mediaite.com