Britt McHenry's ESPN Suspension Ends, Will Appear on SportsCenter This Weekend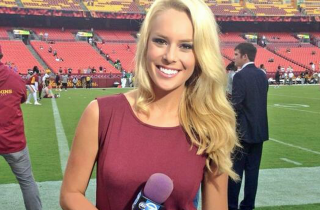 ESPN reporter Britt McHenry's suspension is officially over and she is expected to return on-air this weekend.
McHenry was handed a 10-day suspension last week after surveillance video surfaced of her insulting a towing attendant with remarks about her intelligence level, education, and physical appearance. Sports Illustrated's Richard Deitsch reported Thursday that the 28-year-old reporter will make her return this weekend on ESPN's flagship news show, SportsCenter.
She will also cover the St. Louis Rams in next Sunday's NFL Draft. "She's had the draft assignment for a while and nothing's changed," ESPN coordinating producer Seth Markman told SI.
As for whether ESPN is prepared for an onslaught of negative reactions over McHenry's return to air, Markman said, "Listen, it wouldn't shock me if some people react negatively," but the young reporter is fully aware of the long road ahead.
"We had a conversation where we both talked about that it would take time and it will be hard," he explained. "She realizes she will have to do her job really well and hopefully win back some of the trust of our viewers. We expect that from her, and I expect that from her. She did a great job for us on the NFL last year in some difficult situations and I have seen nothing that doesn't make me think she will rebound from this."
Speaking of ESPN returns, cancer survivor Shelley Smith will make her post-treatment comeback at next Sunday's draft.
[Image via Twitter.com]
— —
Have a tip we should know? tips@mediaite.com