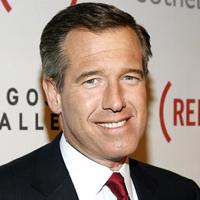 It's been a big week for Brian Williams. Tonight, he guest-stars on 30 Rock. Last night, he emceed "Stand Up For Heroes," the star-studded annual charity show benefiting wounded returning soldiers via the Bob Woodruff Foundation, sharing the stage with Elvis Costello and his idol Bruce Springsteen. Sunday, he returned from a week spent in Afghanistan, alive and intact (it is something you can't underestimate in a paragraph that includes the name Bob Woodruff). His one big failing from the last week was not being able to do Leno, and many would regard that as a plus.
Okay so — we all know it by now, Brian Williams has a life outside of NBC from 6:30 – 7pm, Monday – Friday. Yes, people were skittish when he hosted SNL (yawn) but that was two years ago — he's been on Leno, Conan, Jimmy Fallon, Jon Stewart, the Emmys, Ellen, Bonnie Hunt and who knows what else since then (inlcuding, btw, a quick cameo on 30 Rock). So — we get it. He's funny.
That's why I was surprised by this promo video for tonight's ep of 30 Rock, in which BriWi seems to doth protest way more than necessary that no really, he's not funny, he's just a newsman. "I hope people understand that a couple of months from now I'll be in Afghanistan being shot at," he says, reminding me of his repeated assurances two years ago that the Nightly News was "Job One" and how "stewardship of journalism at NBC" was safe. Well, it's an easy claim to make two years later from the top of the ratings (though Diane Sawyer awaits!) and having just returned from your second trip to Afghanistan since then to boot. The irony is that now he no longer needs to make that claim — two years ago, it really was novel to have Brian Williams on SNL; now, it's part of the progression of an alterna-career that by now we're pretty used to. So BriWi, stop apologizing — the news is safe, and so are you — at least until you join Lester Holt on the Today Show set in a dress.
BTW all that said, I particularly liked these two quotes from his 30 Rock cast mates: (1) Tina Fey: "He really knows his way around a joke, and he's always available" (ha – according to the relative frequency of my Google alert for him vs. Charlie Gibson, he really is) and (2) Judah Friedlander "It's always fun when you have guys that people are so used to seeing play very serious roles on TV – not that he's playing a role but you know he's usually very serious." I'm sure BriWi loved that one.
Clip below of the 30 Rock pre/promo-interview and, just to remind you that Brian Williams is a serious journalist, a little something extra.


Related in BriWi Doing The Same Thing Before He Hosted SNL:
In Bloggo Gravitas: BriWi On SNL, In His Own Words [ETP]
Have a tip we should know? tips@mediaite.com