Brokaw Mocks Snowden On Letterman: Can't Have A 'High School Dropout' Deciding Which Secrets To Expose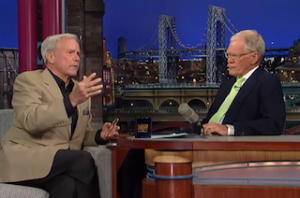 Tom Brokaw went on the Late Show last night to help David Letterman unpack all of the revelations to come out of the NSA over the last week. The veteran NBC newscaster identified some major problems with the fact that a "high school dropout" like Edward Snowden was able to have access to so many high-level security secrets.
Brokaw explained that the justifiable "paranoia" after 9/11 combined with the advances in technology over the last 12 years have led Congress to grant the NSA an enormous amount of freedom to track Americans at will. "One of the most telling parts of this story for me," Brokaw said, "is a 29-year-old high school dropout, who is a military wash-out, has job where he has access to all this because he's working for a military contractor. Something's got to be reviewed here."
Despite Letterman's goading, Brokaw was not willing to come down on one side of the "hero" vs. "traitor" debate when it comes to Snowden, but he clearly found it troubling that the NSA secrets were leaked. "You can't have people just going into these classified systems," he said, "and making decisions for themselves about what they're going to expose."
The big takeaway for the last two weeks according to Brokaw has been, "you can have privacy or you can have the internet, but you can't have both." He has come to accept that "everything that we do on a cell phone or the internet" is out there for the NSA and anyone else with the right hacking capability to see.
"As Americans, are we just walking around ignorant thinking that this is the price of freedom," Letterman asked, "or has our freedom, in actuality, been compromised by this activity?"
Brokaw replied that "it's hard to make the case at this point" that our freedom has been compromised by the NSA's actions.
Watch video below, via CBS:
—
>> Follow Matt Wilstein (@TheMattWilstein) on Twitter
Have a tip we should know? tips@mediaite.com