Brooke Baldwin Grills Democratic Candidate Over Her Violent Anti-GOP Rhetoric In World Of Warcraft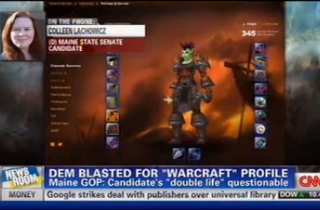 Maine Democratic State Senate candidate Colleen Lachowicz recently came under fire for her controversial World of Warcraft profile, which includes her character joking about drowning conservative activist Grover Norquist among other things, and CNN's Brooke Baldwin questioned the political contender for making such comments in the online multiplayer game.
"World of Warcraft," Baldwin began after explaining that state conservatives are attacking Lachowicz. "I know it's a hugely popular game, just tell me why do you play it?"
Lachowicz said that it's just any old hobby, to which Baldwin responded, "I know it's one thing to enjoy being online and playing a character but it's another to post, let me quote you here, 'Now if you'll excuse me I may have to go and hunt down Grover Norquist and drown him in my bathtub.' Colleen, that is some pretty strong language."
The aspiring politico went on to argue that some of her comments have been "taken out of context," leading Baldwin to ask, "If they took it out of context, how did they do that? How is it out of context?" Lachowicz provided a rather confusing response:
"I haven't even seen it [the site]. My understanding is that some of the comments are taken from blog posts about me, from other things, they're um about blog posts and I think it's just unfair and inaccurate to mish-mash those together and take them out of context…They go back to 2005, I was a private citizen, I wasn't running for office or anything…"
Baldwin cut Lachowicz off and said, "I have something in my hand, this is dated from April of 2009 where you are blogging about stabbing, [you say], 'I stab things a lot.' Do you remember writing that from April of 09?"
"I think I'm talking about gaming in that," Lachowicz said.
Baldwin then read a statement from Maine GOP spokesperson David Sorenson:
"We think anyone making comments about drowning Grover Norquist and stabbing things shows a shocking level of immaturity and poor judgment that voters should know about. Certainly the fact that she spends so much time on a video game says something about her work ethic and, again, her immaturity."
Baldwin seemed to be in accordance with these remarks, stating, "You're running for public office, common sense tells me you shouldn't be threatening the life of a prominent Republican, even if, as you point out, it's a game. Even if it's in jest."
Lachowicz insisted the focused on her WoW persona is a "distraction" from what's really important.
"Well, apparently your opponent's party is very concerned about your gaming and the specific words you're using," Baldwin said.
"I must be doing something right if the main Republican party decided to attack me over online gaming and blog post," Lachowicz said.
Watch the full clip below:
—
>> Follow Laura (@LauraDonovanUA) on Twitter
Have a tip we should know? tips@mediaite.com