Brooke Baldwin Presses An Annoyed Reince Priebus To Explain Why Romney Won't Release More Tax Info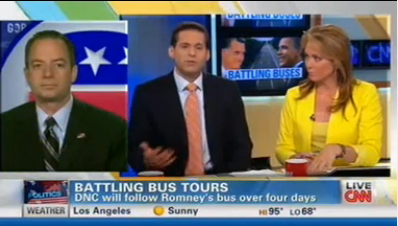 RNC chairman Reince Priebus appeared on CNN's Starting Point Friday morning, where he painted Mitt Romney's recent poll numbers in a positive light, noting that "if you look underneath those polls, you see that when people are asked whether Barack Obama fulfilled his promises in regard to the economy and jobs, people know that that's not true."
He also drew attention to the fact that the RNC and Romney now "together have more money in the bank, twice or three times the money in the bank that the DNC has." It's now their turn to tell their story, he added, now that the President and his side have had an opportunity to tell theirs.
Host John Berman noted that Romney's unfavorability rating continues to go up the longer he campaigns.
"First of all, those numbers are very easy, John," Priebus replied. "Just because Governor Romney ran in '08 and HE'S running now, doesn't mean Governor Romney was on television for four years running around on Air Force One and spending money in advertising. The fact of the matter is, it's very easy to see. If President Obama hadn't of spent tens of millions of dollars on negative advertising, some of this which you know is completely untrue, all over the country for almost an entire year, well, it has an effect. But the good news for us is that we now are in a position to outspend them on television and tell our story, tell the Mitt Romney story starting with our convention going through the fall and turn the tables. I mean, that's what campaigning is all about. I think that we're in a great position because we have the facts on our side. The President can't — they can divert and they can lie, but the fact is they can't change the truth as to where we are in this economy. And the truth is great because the truth is on our side."
Brooke Baldwin then wondered whether the practice of one side shadowing another during bus tours "isn't this a little immature." For his part, Priebus wasn't too concerned, calling these actions fairly typical of the current campaigning process.
When it came to the topic of Romney's tax returns, Priebus muttered "this again?" Later, when Priebus began to say he could think of a million other questions voters might have, Baldwin asked "well, what about the answer?"
Check it out, via CNN:
Have a tip we should know? [email protected]