Brother Of Aurora Victim Rebuts MSNBC Host: Media Shouldn't Be Trying To 'Politicize' Shooting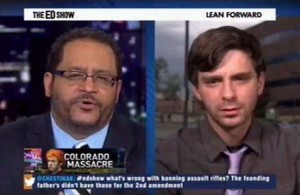 Jordan Ghawi, the brother of Jessica Ghawi, one of the victim's of last Friday's tragic shooting in Colorado, appeared on MSNBC's The Ed Show last night to talk about how he and his family are coping. Guest host Michael Eric Dyson asked Ghawi if he plans to push for more gun control laws, to which Ghawi said that he has no interest in politicizing the shooting and just wants to focus on "celebrat[ing] the lives of the victims."
RELATED: The Five Clashes Over Whether Gun Control Talks Appropriate While 'Bodies Are Still Warm'
Dyson asked Ghawi if he feels "compelled to push for tighter gun laws" given how personally the shooting has affected him. Ghawi admitted he felt uncomfortable with trying to engage in politics after such a tragedy.
"Here's the thing. We can try to politicize this and make some sort of polarizing debate and make this a tenet of the election. That's not what we're here to do right now. We're here to celebrate the lives of the victims that have been lost. If somebody wants to do harm to somebody, they're gonna find a way to do it, whether it be with a weapon such as a rifle or whether it be with any sort of means. We should actually start to think about why people are doing this, and the reason people are doing this is they want their names out there."
Ghawi said that the media should be providing a platform to air the stories of the victims, not the shooter.
Watch the video below, courtesy of MSNBC:
h/t The Blaze
Have a tip we should know? tips@mediaite.com
Josh Feldman - Senior Editor