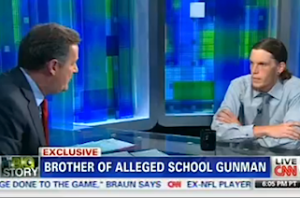 The brother of Georgia gunman Michael Brandon Hill, who walked into an elementary school Tuesday with an assault rifle and 500 rounds of ammunition, sat down for an exclusive interview with CNN's Piers Morgan Thursday night. Tim Hill told Morgan he doesn't believe any gun laws could have stopped his brother from doing what he did.
Hill said he was "a bit" surprised by his brother's actions, but at the same time, he said it "seemed like eventually he would do something like this, but not to this magnitude." He described his brother as a normal kid, who changed as an adolescent and ended up being institutionalized. As a teen, he set fire to his family's home while everyone was sleeping inside.
Asked if he felt "angry that the system betrayed" his family, Hill said, "I'm not angry. I feel like there's just a whole lot more they could have done." As an example, he said that instead of reaching out to victims' families "rich and famous people" should be "reaching out to people that have mental disorders." Hill was particularly frustrated that President Obama called and thanked Antoinette Tuff, the school bookkeeper who helped talk the gunman out of killing people.
"He should be more focused on trying to get to the bottom of how he can help these kids," Hill said of Obama. "instead of calling somebody up just to thank them for what they did. Yeah, I'm pretty sure she's been thanked by hundreds and hundreds of people." That being said, he did admit that he was "grateful" to the woman who may have even saved his brother's life.
Hill went on to say that he hoped no one would use his brother's incident to push for more gun laws because "there is no gun law whatsoever, nothing anybody can do or say that's going to prevent somebody that wants to get their hands on a gun to get their hands on a gun."
Watch video below, via CNN:
[photo via screengrab]
—
>> Follow Matt Wilstein (@TheMattWilstein) on Twitter
Have a tip we should know? tips@mediaite.com