Brutal: Former Obama Diplomat On MSNBC Says AP, Fox Scandals Discredit Calls For Press Freedom Abroad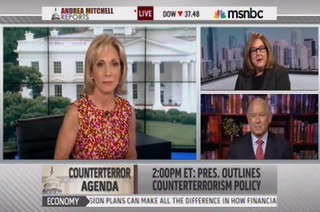 Former State Department spokesman P.J. Crowley appeared on MSNBC on Thursday where he tore into his former employer, President Barack Obama and his administration, over the heavy-handed way in which the Department of Justice has sought to intrude on the private affairs of journalists. The scandals surrounding the DOJ's subpoenaing of communications records from Associated Press and Fox News Channel reporters has, in his opinion, partially discredited American calls for freedom of the press abroad.

MSNBC host Andrea Mitchell began by asking Crowley for his reaction, as a former diplomat engaged in advocating for freedom of the press abroad, to the scandals surrounding the DOJ's recent subpoenaing of journalists' phone and email records.
"How can the president today say that he believes in press freedoms when this administration has been more aggressive than any of its recent predecessors in going after not just leakers but the reporters?" Mitchell asked.
RELATED: Your Move, Media: The Obama Administration Dares The Press To Respond To Intimidation Tactics
"I worry about the, you know, the impact of this on the American narrative in terms of the United States being a great supporter of freedom of the press," Crowley replied. "I think the level of intrusion into the affairs of the media is very disconcerting to me."
I know that those in China, those in Russia, those in other authoritarian societies where we, the United States, have traditionally said, 'You've got to protect press freedoms. You can't intimidate members of the – journalists around the world.' We're not necessarily being viewed around the world today as practicing what we preach.
"Exactly," Mitchell agreed. She said that exchanges of foreign students studying journalism in America now leave with mixed signals given the scandals surrounding the AP and Fox News.
Miami Herald reporter Carol Rosenberg agreed. "There is a potential for an air of intimidation on all kinds of investigative journalism," she said. "Now, the question is when you pick up the phone, who else is listening?"
Watch the clip below:
> >Follow Noah Rothman (@NoahCRothman) on Twitter
Have a tip we should know? tips@mediaite.com