Brzezinski, Guests Rip 'Caveman' GOP Gov. For Linking Education Woes To Working Moms: Men Have 'Nothing Left'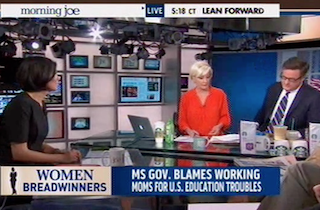 On Wednesday, the Morning Joe crew — and Mika Brzezinski in particular — took aim at Mississippi Gov. Phil Bryant (R), who yesterday linked America's educational troubles to mothers in the workplace. Tying it in with the recent debacle surrounding Erick Erickson and Lou Dobbs, Brzezinski railed against the "cavemen" whom she perceived as insecure.
During a Washington Post Live event, "focused on the importance of ensuring that children read well by the end of third grade," Bryant was asked a question about how America became "so mediocre" in regards to education.
"I think…both parents started working," he replied. "And the mom is in the workplace."
Immediately, he added that's "not a bad thing" — and he could foresee the remark getting him into trouble and eliciting angry emails.
"Women are breadwinners and men can't handle it," Brzezinski charged. "They really don't know what to do with themselves. They've got nothing left. They bring very little to the table because they can't multitask and now they are really — it's being revealed and they can't handle it, so it comes out in completely ridiculous, erratic, stupid conversations like this!"
She and fellow MSNBC host Alex Wagner agreed that many mothers are in the workplace because of necessity. "There are a lot of cavemen coming out of the shadows," Brzezinski added.
Meanwhile, Mike Barnicle contended that men fear how balanced women are.
"They have better judgment about things than a lot of men, and I think it's not an economic thing," he posited. "I don't think men fear women's economic power — they fear their balance. Women are balanced, men aren't."
Take a look, via MSNBC:

Have a tip we should know? [email protected]