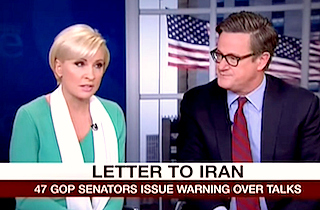 Morning Joe host Mika Brzezinski argued Tuesday morning that Senator Tom Cotton's (R-AR) letter to the Iranian government dissuading Tehran from participating in President Barack Obama's nuclear negotiations showed a GOP single-mindedly fixated on undermining Obama at all costs.
"If anyone had any reservations that what the Republicans did when they brought Benjamin Netanyahu to address Congress was not an effort to undercut the president, this then could perhaps seal the deal in your mind," Brzezinski said, "that everything they do is absolutely focused, in an almost obsessive and destructive way, to undermine the president and his effort to get a deal as opposed to going to war."
Cotton's letter to Iran informed them that any deal signed with Obama would be "nothing more than an executive agreement," and thus potentially voided when he left office. Vice President Joe Biden slammed the move in a statement Monday evening, calling it "beneath the dignity" of the Senate.
"Thank you, Senator Cotton, very much for stepping in," Brzezinski said. "We don't need that."
The panel roundly agreed, with the only variance coming from co-host Joe Scarborough, who said that Obama's willingness to exclude the Senate from approval of any potential deal put lawmakers in an Alabama tire pickle.
"The president has stated that not only is he not going to put this up for a vote, but he's not going to give the United States Senate any input at all in the negotiations," Scarborough said. "And I think for something this critical…you need to have the Senate weigh in."
"Is that grounds to write a letter to Tehran?" Brzezinski replied. "It seems to me you should write a letter to the president."
Watch the clip below, via MSNBC:
[Image via screengrab]
——
>> Follow Evan McMurry (@evanmcmurry) on Twitter
Have a tip we should know? tips@mediaite.com