Brzezinski to Scarborough: Obama Kills Terrorists, He Doesn't 'Let Them Run Free'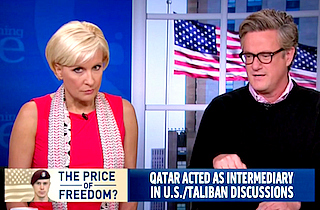 Morning Joe co-hosts Joe Scarborough and Mika Brzezinski clashed Monday morning over the swap of Army Sgt. Bowe Bergdahl for five Guantanamo Bay detainees, with Scarborough arguing that the release of five Taliban fighters was part and parcel of President Barack Obama's naive worldview that included plans to shutter Guantanamo Bay five years ago.

"The thing is, it was a moral issue for him to close GITMO a year after he got into the White House," Scarborough said. "And, you know, how could any of us have seen it coming that he wouldn't be able to close GITMO? Oh, wait a second. I actually predicted here, before he was even president, he would not get us out of GITMO. Because the president's view of the world was a lot less complicated before he was President of the United States, so…"
RELATED: McCain: Freed Taliban Member 'Responsible for Deaths of Thousands'
"This is a president who's taken out terrorists with drone strikes and looks at their faces before it happens," Brzezinski objected. "I don't think he just let five run free."
"Actually, I think that's exactly what he did," Scarborough said.
"Come on," Brzezinski said. "There's been obvious negotiations with several countries. We know this. And we also know they're taking the hit for this because there's stuff they can't tell us."
Scarborough seemed less than convinced.
Watch the clip below, via MSNBC:
[Image via screengrab]
——
>> Follow Evan McMurry (@evanmcmurry) on Twitter
Have a tip we should know? tips@mediaite.com