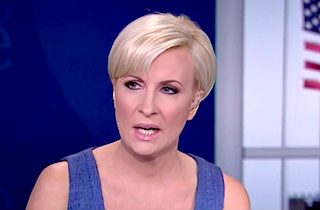 Yes, that headline rhymes.
Morning Joe host Mika Brzezinski wondered Monday morning at the outrage over ABC News anchor George Stephanopoulos' failure to disclose contributions to the Clinton Foundation before a testy interview with Clinton Cash author Peter Schweizer. Stephanopoulos' previous Clinton ties were well known, she argued, and the new ones would have been fine had he simply disclosed them.
"He worked on the Clinton campaign, he worked tirelessly to elect Bill Clinton, he served under Bill Clinton," Brzezinski said. "Who would be so surprised that he has ties to the Clintons? If anything that seems to me to be a lack of judgment on the people who are hiring him, to think that he can just erase those from his brain. Biases exist."
RELATED: Stephanopoulos Flap Exposes Partisan Divide on Media Bias
"Everybody on television has biases," she continued. "I think what was lost here is the lack of transparency. Look at Joe and me. Totally different world views. Totally different ideologies."
"If you block out everybody who's had political experience, you're also blocking out an insight and a sense of a knowledge about the process," Brzezinski said. "I don't mind that people who have had political jobs come on television and give us their insight and prognosticate. They know how it works; they've done it. Just be transparent every step of the way and the information is richer."
Brzezinski seems to be conflating reporting with commentary and cable news with network news, but hey.
Watch the clip below and delete your account via MSNBC:
[Image via screengrab]
——
>> Follow Evan McMurry (@evanmcmurry) on Twitter
Have a tip we should know? tips@mediaite.com