'Bullying' Or 'Righteous Anger'? O'Reilly And Guests Debate His Outburst Against Alan Colmes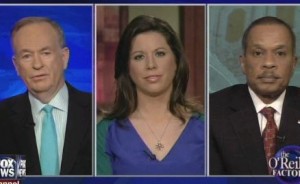 It's been nearly a week since Bill O'Reilly shouted down Alan Colmes for "lying" about President Obama's willingness to cut spending, but Monday night the showdown was still the top story on The O'Reilly Factor.
O'Reilly continued to explain the confrontation in his Talking Points Memo segment, this time chalking it up to "righteous anger" on his part, all part of a larger plan to draw attention to the issue or spending. "The sad truth about life," O'Reilly opined, "is that there are some things you cannot change without over-the-top action." He added, "In order to get everybody's attention, I got angry with Colmes. I believe my anger was absolutely justified." O'Reilly revealed that Colmes will be returning to the Factor Tuesday night, one week after the initial incident, where the two men will either reconcile or go at each other for round two.
After his opening monologue, O'Reilly brought on Fox contributors Mary Katharine Ham and Juan Williams to get their takes on the "righteous anger" concept. Williams said he sided with Colmes on this one and told O'Reilly "I don't think it helps you when you yell 'liar,' when you call people 'B.S. agents' and all of that. i think it diminishes attention to the substance of what you have to say."
Ham, for her part, found it "hypocritical" for the left to criticize O'Reilly for his outrage, pointing to the controversies over Chick-fil-A and Mayor Bloomberg's soda ban as examples of the hypocrisy. "Chill out, whiny babies. Sometimes we have fights and then we apologize afterward and we're done." But she also brought up the way some television hosts, not necessarily O'Reilly in her opinion, can use "emotional bullying" to make guests ignore facts.
"I get accused about this bullying thing all the time," O'Reilly responded. "We don't invite any guests on here that we don't think is intellectually equipped."
For all the criticism hurled at O'Reilly for his outburst, Colmes did hold his own and did not back down off the points he was trying to make. Now that we've heard O'Reilly's explanations, tomorrow night when the two men are face-to-face for the first time, we may get the chance to hear Colmes' side of the story.
Watch video below, via Fox News:
—
>> Follow Matt Wilstein (@TheMattWilstein) on Twitter
Have a tip we should know? [email protected]