Burn: Megyn Kelly Blasts Scott Pelley's Anti-Cable News Dig: 'We Beat You' During Debates, Election Night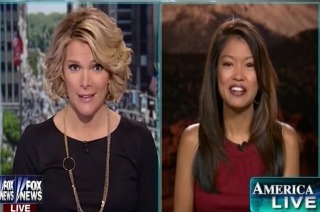 Fox News Channel anchor Megyn Kelly and conservative columnist Michelle Malkin tore into CBS News anchor Scott Pelley and his network over a number of issues, including a recent interview in which Pelley dismissed all of cable news and significantly underestimated Fox News Channel's ratings. Kelly set Pelley straight, noting that her network beat CBS News during all the presidential debates and on election night.

Kelly and Malkin began by dissecting a recent CBS News report in which Elizabeth Palmer compared hardline candidates running in Iran's presidential election to candidates comparable to the Tea Party in the United States.
"It's beyond outrageous," Malkin said. "The problem isn't so much bias in the media as it is the pretense of neutrality, and these people still don't get it."
RELATED: CBS Evening News Anchor Scott Pelley: Cable News Might Not Be Necessary Anymore
Kelly turned to Pelley's recent comments in which he dismissed cable news and said that partisan opinion broadcasting is something network anchors cannot get away with because of their far larger audience:
"They've decided to bite off one small part of the viewership and be happy with that 200,000 viewers, 300,000 viewers that they have," Pelley said in a recent interview. "But when you are talking to 7 million viewers across the country, man you have got to represent everybody's views and have got to give them the impression that you are being as honest as you know how to be."
Kelly picked apart a portion of Pelley's interview in which he said "not a lot of people watch cable news."
"Well, we beat you in all the debates and on election night, Scott," Kelly observed.
She asked how Pelley thought that his network was being as "honest as you know how to be" when your network is broadcasting reports linking Iranian theocrats to American conservatives.
Malkin recalled that CBS network stood behind anchor Dan Rather who defended what would ultimately be proven to have been a fabricated story regarding President George W. Bush's military records.
"Talk about the worst kind of psychological projection there," Malkin said of Pelley's comments.
Watch the clip below via Fox News Channel:
h/t Fox News Insider
> >Follow Noah Rothman (@NoahCRothman) on Twitter
Have a tip we should know? tips@mediaite.com