Bush Admin Official Fights Back After Law Student Accuses Him Of Holding Nazi's Values On Gay Marriage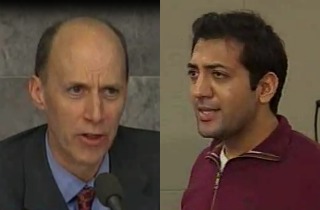 Speaking before an audience at George Washington University Law School, Edward Whelan, the president of the Ethics and Public Policy Center and a former administration official for President George W. Bush, endured some criticism for his views on same-sex marriage. Whelan advocated for a legislative remedy to the controversial issue of marriage equality rather than a sweeping and imperfect verdict by the Supreme Court on the matter. One law student accused Whelan of holding the Nazi Party's values on marriage and homosexual equality.

RELATED: CNN Anchor Gets In Explosive Personal Battle With Conservative Over 'Legality' Of Gay Marriage
"The way that you look at the history of marriage institution to me is not a science," the student began. "It's not an anthropological and cultural science; it's more of an anthropological hypocrisy."
He said that, if Whelan's position was that marriage is a vehicle for procreation, why does the state allow infertile individuals to marry? "The way that you're segregating our society by saying that just a man and woman can get married to me is the same argument as, and I'm sorry for using that word, Nazis would segregate societies," the student added.
Whelan replied that his "false anthropology" is an anthropology that is shared by the majority of cultures worldwide. "This was the consensus until it became fashionable to promote this new cause," Whelan said.
He mocked the remainder of the student's question. Whelan called the premise he advanced around a hypothetical infertile couple being unable to marry a "canard." He went on to say that authoritarian regimes, like the Nazis, have been historically more amenable to forcing their citizens to undergo fertility tests in order to promote procreation.
Watch the clip below via C-SPAN:
> >Follow Noah Rothman (@NoahCRothman) on Twitter
Have a tip we should know? tips@mediaite.com