Bush Delivers Emotional Speech At Library Dedication, Reaffirms Belief In U.S. Mission To Spread Freedom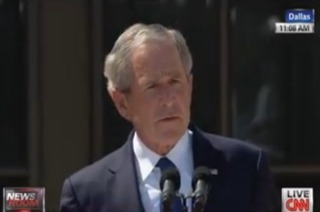 On Thursday, former President George W. Bush addressed the crowd of dignitaries, former presidents, and members of his administration during the dedication ceremony for his presidential library. He reaffirmed his faith that the mission of the United States should be to spread freedom abroad, and became emotional when he described the goodness of the American people and the country's bright future.

RELATED: Barbara Bush Opposes Son Jeb's Potential Presidential Run On Today: 'We've Had Enough Bushes'
"There was a time in my life when I wasn't likely to be found at a library, much less found one," Bush joked. "The beautiful building has my name above the door, but it belongs to you."
Bush thanked his family, his wife, and his father, Former President George H. W. Bush, for being able to attend the ceremony.
"If you don't have anything to do in the morning, tune into the Today show," Bush said. "Jenna [Bush-Hager] is a correspondent. Thereby, continuing the warm relations the Bush family has with the national press."
"In democracy, the purpose of public office is not to fulfill personal ambition," Bush continued. "Elected officials must serve a cause greater than themselves."
"In the end, leaders are defined by the convictions they hold," he added. "And my deepest conviction, the guiding principle of the administration, is that the United States of America must drive to expand the reach of freedom."
Bush became emotional towards the end of the speech, whipping away a tear as he recalled the heroic actions of American citizens who sacrificed themselves to save others from danger in 9/11, the Virginia Tech shooting, and after Hurricane Katrina.
"Franklin Roosevelt once described the dedication of a library as an act of faith," Bush concluded. "I dedicate this library with unshakable faith in the future of our country."
"It was the honor of a lifetime to lead a country as brave and as noble as the United States," Bush said. "Whatever challenges come become us, I will always believe our best days lie ahead."
Watch the speech below via CNN:
> >Follow Noah Rothman (@NoahCRothman) on Twitter
Have a tip we should know? tips@mediaite.com