Bush Reflects With Dana Perino On Iraqi Shoe Throwing Event, 9/11, And His 'Predictable' Media Critics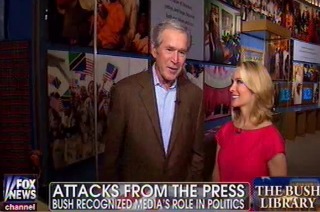 Fox News Channel host and former White House Press Secretary, Dana Perino, talked with the hosts of Fox & Friends on Thursday from Dallas, Texas, where the George W. Bush presidential library is scheduled to open. Perino recently interviewed Bush about the famous shoe throwing incident in Iraq and how that related to the establishment of a free press in that country. Bush also went into the events that followed 9/11 and how he feels about his media critics. He called today's opinion page writers "predictable."

RELATED: George W. Bush: 'I Hope' Jeb Bush Runs For President In 2016
"You were determined during that press conference – you were not going to end it without taking questions from the reporters that were there," Perino noted of the infamous shoe-throwing news conference.
"I think, in order for democracy to function well, there has to be a vibrant press," Bush said. The president said he didn't want to leave and give the shoe-thrower a victory, but he also wanted to answer the questions of the assembled Iraqi media.
"I didn't like some of the stuff they wrote but, of course, you don't have to read it," he added.
"Do you read it now?" Perino asked.
"Not really," Bush replied. "I know what's in the news, but most of these opinion pages are pretty predictable to begin with."
Later, Perino and Bush visited a group of high school students who were in second grade during 9/11. Bush said that the first decision he made after his chief of staff told him the attack was underway was to "project calm."
Bush said one of his first decisions was to combat "religious bigotry," so he went to a mosque to show that the American value of religious liberty would not be curtailed after the 9/11 attacks. "We were very careful not to abridge civil liberties," Bush told the high school students.
Watch the segment below via Fox News Channel:
> >Follow Noah Rothman (@NoahCRothman) on Twitter
Have a tip we should know? [email protected]