Bushes, Clintons Join Growing List of Rich and Powerful Craptastically Failing Optics 101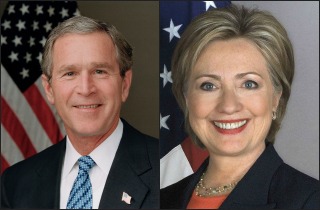 "How many yachts can you water ski behind, Gordon? How much is enough?" – Bud Fox to Gordon Gekko, Wall Street, 1987
The same question should be asked to the Bushes and Clintons as well. It's a double-whammy Thursday, as it was revealed that George W. Bush — who has conducted himself with nothing but class and dignity since leaving office in 2009 — collected $100,000 for a 2012 speech to a wounded veterans group called Helping a Hero, a charity that assists those who lost limbs in Afghanistan and Iraq. Forget the fact the fee was lower than the usual Bush 43 rate ($250K/speech). The optics — a common word in these parts — are horrific. Laura Bush also was paid $50,000 to appear the prior year as well.
Mr. Bush's net worth is tabbed at $35 million. Pretty sure he and his family (and generations to come) are set. He should have waived the fee altogether, regardless of the net amount the speech raised. There are certain things that should come free of charge from former presidents… and speaking to wounded veterans should be at the top of the list.
He should donate the money back and at least triple it… as in today.
The same can be applied to Bill and Hillary Clinton. There's a report out today in Politico that the Clinton Foundation has no plans to return the six-figure donation (anywhere between $100K and $250K) given to it by one Donald Trump.
"We're grateful to our more than 300,000 donors from across the political spectrum whose support has allowed us to efficiently and effectively fight HIV/AIDS and childhood obesity, increase opportunity for girls and women, lift people out of poverty, combat climate change and has improved the lives of millions of people all over the world," Clinton Foundation Chief Communications Officer Craig Minassian said in a statement to Politico.
Please. It's like listening to the George Stephanopoulos soundtrack on the issue. If Trump is as bad a guy as Mrs. Clinton described in her Tuesday interview with CNN, replace his money to help all those in need with your own. The Clintons are worth well over $100 million in their own right, also courtesy of obnoxious speaking fees. Can they afford to put back Trump's donation as a symbolic gesture? Of course. Will they? Of course not…unless a focus group eventually tells them to.
Just another chapter in the book of bad optics. In the world of waterskiing behind yachts, the Bushes and Clintons failed to read even the CliffsNotes.
— —
>> Follow Joe Concha on Twitter @JoeConchaTV
Have a tip we should know? tips@mediaite.com