Business As Usual? Fox & Friends Finds 'Glimmer Of Hope' For GOP In Obama's Budget Plan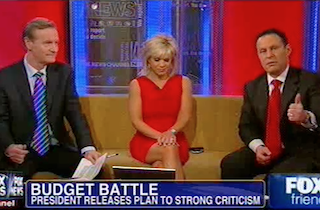 President Obama released his budget plan yesterday — overall receiving a lukewarm, if not plain angry, reception from both sides of the aisle. While he has championed it has a compromise, his base disagrees with touching entitlements and his opposition disagrees with additional tax revenue. When the a Democratic president's base is upset with him, Fox & Friends' Gretchen Carlson asserted on Thursday, there's "a glimmer of hope" for Republicans.
Each of the hosts agreed: We still have a long way to go before we accomplish anything on this issue. There's "plenty to choose from," from the à la carte budget menu, Steve Doocy asserted. Not to mention, Brian Kilmeade chimed in, we're also dealing with contentious issues of immigration and gun control — two issues that Carlson predicted "will come together" before any progress is made on the budget.
"When you have a Democratic president, and you have the left part of that party upset with you, maybe there's something that's going on that the Republicans can see a glimmer of hope with," she asserted, despite lamenting the situation as "business as usual."
The crew replayed the promise Obama previously made not to touch specifics aspects of entitlement programs — and how his current budget contradicts that, thus eliciting a poor reaction from those on his side of the aisles.
It could be worse, Carlson argued, recalling Obama's debt commission ideas from two years ago. Perhaps Democrats "should not complain so much," she added, because his current budget could be far less in line with their thinking.
Take a look, via Fox News:

Have a tip we should know? tips@mediaite.com