'But He's American': CNN's Camerota Drills Pierson for Targeting 'Mexican' Trump-U Lawsuit Judge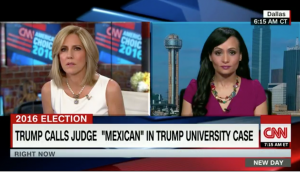 Donald Trump's legal team got some bad news over the weekend, and CNN's Alisyn Camerota took his spokeswoman to task for how the GOP presumptive nominee trashed the judge overseeing the lawsuit against him.
Trump is facing a class-action lawsuit from former students of Trump University, who say the program was a fraudulent scam that used deceptive practices to net tuition fees for little to no return. Trump insulted California judge Gonzalo Curiel last week at one of his rallies, where he took a shot at the Judge's Mexican heritage just before proclaiming that, "the Mexicans are going to end up loving Donald Trump."
Since then, Curiel ordered Trump's attorneys to unseal several documents they were trying to keep out of the case. Camerota spoke with Katrina Pierson on New Day, and the CNN anchor demanded an answer for why Pierson's boss chose to attack the judge's ethnicity.
Why is Donald Trump going after ethnicity of a judge in Trump University case? @AlisynCamerota asks @KatrinaPierson https://t.co/HQHyXeBGS3

— New Day (@NewDay) May 30, 2016
After defending the merits of Trump U, Pierson kept up the attack by saying Curiel was a member of the La Raza lawyers association, who she accused of organizing protests against the mogul. Camerota shot back that Curiel is an American citizen no matter what Trump might've insinuated, but Pierson continued to say that he was definitely connected to Mexican flag-waving protestors.
"I don't know if he's Mexican," Pierson said. "I don't know his heritage or his descent."
Camerota finished things off by clarifying that, "…for the record, he's American."
[Image via screengrab]
— —
>> Follow Ken Meyer (@KenMeyer91) on Twitter
Have a tip we should know? tips@mediaite.com