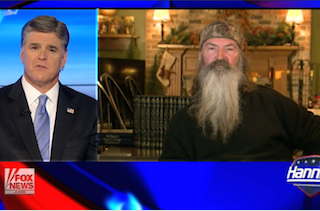 Duck Dynasty patriarch Phil Robertson, who infamously compared homosexuality to bestiality among other anti-gay statements, returned to Fox News' Hannity last night and diagnosed the biggest problem in the world today: "No Jesus."
Sean Hannity asked Robertson why everyone is "walking on eggshells" around the term "radical Islam," but instead of answering that question, the reality TV star went off on an elaborate "historical" rant about "five ideologies" of the 20th century, two of which he said are still vibrant: Islam and political correctness/atheism. The other three are Nazism, Shintoism and Communism.
The big thing they are have in common, according to Robertson is "No Jesus." And "murder." As for the "murder" in "political correctism," he said they've "killed about 55 million of their own children over the last 30 years." Hannity did not ask Robertson to expand on that last point at all, immediately going back to his original line of questioning, but we can assume he was alluding to abortion.
"America is now experiencing 'No Jesus,'" Robertson continued, undeterred. "That's why, when you have 'No Jesus' your morality disappears and the third thing that goes is your freedom."
Robertson described Christianity as "love God and love your neighbor," as opposed to Islam, which says, "Submit to Muhammed, or we will kill you."
"Convert or die," Hannity suggested.
"Convert or die," Robertson repeated.
That assessment of Christianity vs. Islam is particularly striking given what Robertson said about ISIS when he appeared on Hannity's show last September.
"You either have to convert them, which I think would be next to impossible," he said of radical group at the time. "Either convert them or kill them."
So by Robertson's own measure, that kind of rhetoric sounds a lot more Muslim than Christian.
Watch video below, via Fox News:
[Photo via screengrab]
— —
>> Follow Matt Wilstein (@TheMattWilstein) on Twitter
Have a tip we should know? tips@mediaite.com