C-SPAN Apologizes For 'Shut The F**k Up' Caption During Live 'Fiscal Cliff' Coverage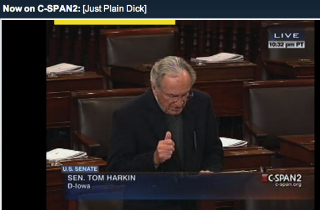 C-SPAN has apologized after its live coverage of the "fiscal cliff" congressional negotiations included what many have interpreted as inappropriate book titles in the on-screen captions.
During its live online coverage of the House and Senate floors, C-SPAN promoted its Book TV programming on its other networks with book title captions in the top-left corner of the screen. Just Plain Dick and I Want You to Shut the F–k Up were the two shortened titles that drew the most attention, given the particular moments they were flashed on the screen.
"Just Plain Dick," the caption meant to promote Kevin Mattson's Just Plain Dick: Richard Nixon's Checkers Speech and the "Rocking, Socking" Election of 1952, appeared on the screen around 1:30 a.m. ET on January 1 while Sen. Tom Harkin (D-IA) spoke before the Senate. For obvious reasons, the shortened caption appearing during Harkin's speech was interpreted as either wildly inappropriate or humorous. (See caption in the image above.)
The "I Want You to Shut the F–k Up" caption appeared later that night, intending to promote the Book TV discussion of D.L. Hughley's I Want You to Shut the F#ck Up: How the Audacity of Dopes Is Ruining America. However, given the context of the ongoing "fiscal cliff" negotiations, people interpreted the coincidence as offensive and the potential work of an online hacker.
In response, C-SPAN has issued an apology:
You may have seen tweets and postings online asserting that C-SPAN's website had been hacked over the New Year's holiday, citing obscenities in the schedule. While the site was not hacked, our policy of using current nonfiction book titles verbatim in our schedule led to the unfortunate posting of content some might find offensive on C-SPAN.org. We apologize for that and are taking steps to prevent it from happening again.

During the New Year's "fiscal cliff" debates, our 100% commitment to cover the House and Senate live caused frequent interruptions to our previously scheduled programming. As such, on some occasions our pre-written TV schedule was not in sync with what was actually live on the air. When this happened, live congressional debate was accompanied by incorrect TV schedule information. Unfortunately, two of our previously scheduled BookTV programs had titles that some might find offensive.

Going forward, we will review our procedures and efforts will be taken to prevent incorrect and inappropriate schedule information from appearing.
[h/t THR]
— —
>> Follow Andrew Kirell (@AndrewKirell) on Twitter
Have a tip we should know? tips@mediaite.com