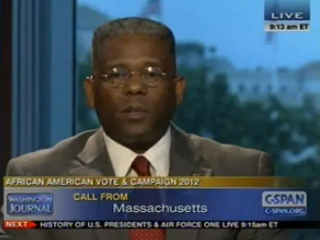 Rep. Allen West doesn't regret calling out all the "communists" in Congress (while not naming a single one), he told C-SPAN yesterday after a caller asked him to make good with his claim and name some communists. "It's not about me trying to identify any individuals– I'm talking about principles of governance and philosophies," he explained.

RELATED: Rep. Allen West Explains 'Communist' Remark, Implies Pres. Woodrow Wilson Was A Communist
"I'm kind of disappointed because I heard you a few months ago called some of your fellow members of the House of Representatives 'communists,' and I was wondering if you could identify a few of those," the caller asked Rep. West, who refused to give him names. "When you say 'progressives,' that is directly related to the label 'communists'… that was a change in marketing," Rep. West replied, the closest he got to a name (perhaps those who are part of the Congressional Progressive Caucus?).
The C-SPAN host asked Rep. West whether he regretted what he said, and further, his opinion of being removed from an NAACP event and scolded by Bill Clinton. "I think that's pretty awesome that a former president would give me that kind of credence," Rep. West replied, adding, "if people are so afraid of saying the truth in the United States of America because of the Huffington Post or Bill Clinton trying to make a joke– I don't care about ridicule."
The clip via C-SPAN below:



[h/t The Right Scoop]
Have a tip we should know? tips@mediaite.com