WATCH: Cable Networks Eagerly Anticipate When GOP Will 'Overplay Their Hand'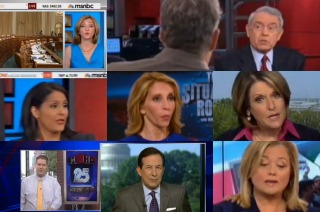 You may have heard that there are a variety of scandals unfolding in Washington D.C. at the moment. Scandals swirling around the White House this week include revelations that the Internal Revenue Service singled out conservative groups for intimidation, that the Department of Justice may have expressed their frustration with the Associated Press by obtaining an absurdly wide swath of phone records, and the ever-unfolding scandal surrounding Benghazi and the administration's response to that attack. With all these overwhelming controversies enveloping the executive branch, one question dominates in the media: When will Republicans overstep in their effort to criticize the Obama administration so they can safely go back to covering the GOP unfavorably?

And this was just a small selection of clips from the past week.
Every time the media expresses their undiluted hope that the GOP will scuttle all three scandals by calling for an armed revolt, or a new constitutional convention, or the like, the bar for actual overreach by Republicans becomes higher.
The subconscious threshold at which point the Republican reaction will have been deemed to exceed what the appropriate response is to these three scandals may never be reached, in fact. Why? Because the scandals themselves are so injurious to the administration – they alienate so many of the White House's constituencies and lend credence to long-standing opposition attacks on the administration – the GOP's expected level of failure may never meet the media's standards.
RELATED: Media Reverting To Familiar Theme Of Attacking GOP'ers Amid Obama's Myriad Scandals
A premature effort by members of the media to shift the focus from the White House to Congressional Republicans earlier this week has already fallen flat.
The outrage that House Majority Leader John Boehner (R-OH) expressed over the IRS scandal, suggesting that jail time was in the offing for the individuals complicit in that matter, aroused the ire of some in the press. However, the rapidly unfolding news cycle, replete with new details of government overreach and an imperious executive branch, overwhelmed what could have been a saving grace for the White House.
The press, which appears eager to cover an overreaching GOP, would be well advised to stop conditioning the public to expect it. At this rate, and given the high expectations set by the media and the gravity of the scandals that are presently unfolding, the Republican Party could not "overplay their hand" if they tried.
> >Follow Noah Rothman (@NoahCRothman) on Twitter
Have a tip we should know? tips@mediaite.com