Here's How Cable News' Legal Analysts Reacted Justice Kennedy's Retirement: There Will Be a 'Titanic Battle'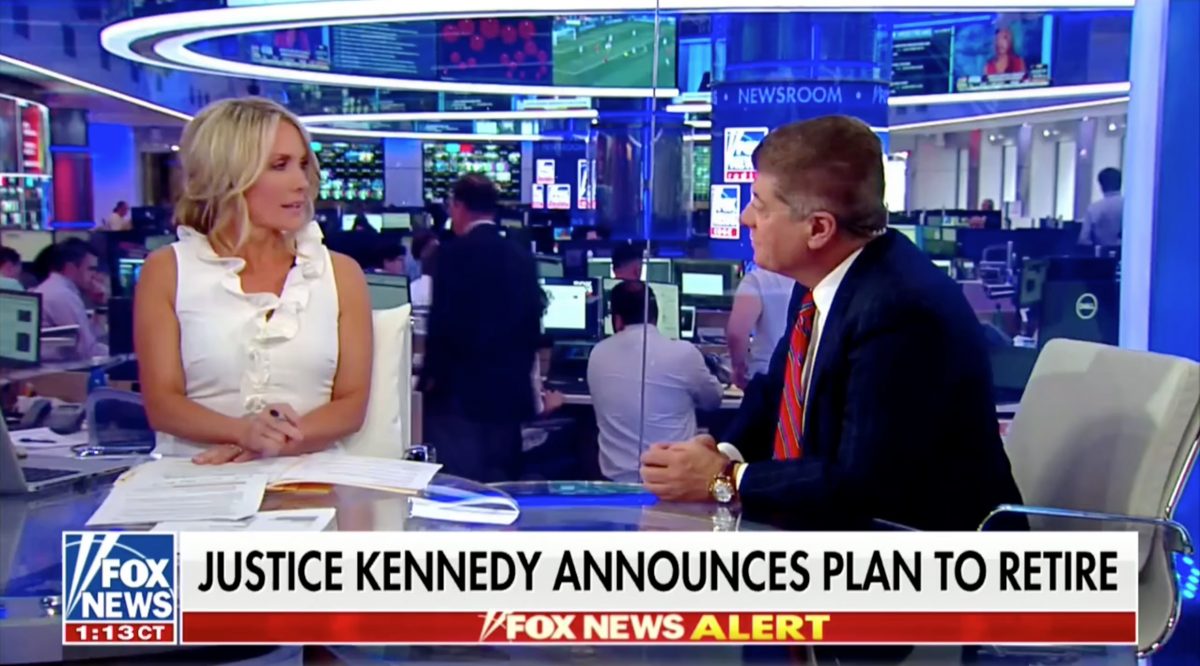 Justice Anthony Kennedy announced on Wednesday that he will retire in a month, and the news set off a frenzy of coverage as frazzled cable news hosts worked to come to terms with what this means for the future of the Supreme Court.
Cable networks rushed to get their legal and political analysts on screen and over the blower, and for a frenzied few hours of prognosticating through shaky cameras outside the Supreme Court and fragile phone lines, the pundits pundited.
Here's how the top legal minds on cable news analyzed Kennedy's retirement.
Fox News Senior Judicial Analyst Andrew Napolitano: "The key issue will be abortion"
Fox News's senior judicial analyst, Andrew Napolitano, emphasized that the issue to watch going forward is abortion.
"Justice Kennedy has been the swing vote on many issues," Napolitano said. "But I suggest to you that the key issue will be abortion."
"Even though Justice Kennedy is Roman Catholic and was appointed by Ronald Reagan, he has consistently sided with the liberals on abortion," Napolitano said. "If President Trump nominates a pro-life nominee, you will see a titanic battle on the Senate and throughout the country, because that will create a pro-life majority on the Supreme Court for the first time since Roe v. Wade."
Napolitano also revealed that former Supreme Court Justice Antonin Scalia told him that Kennedy said he wanted to retire once there was a Republican president and Republicans controlled the House.
CNN Chief Legal Analyst Jeffrey Toobin: "Abortion will be illegal in a significant part of the United States in 18 months"
On CNN, Chief Legal Analyst Jeffrey Toobin weighed the practical implications of Kennedy's retirement, and his opinions aligned with Napolitano: abortion is going to become a central issue.
When asked for the likelihood that Trump nominates a moderate justice, in the mold of Kennedy, Toobin replied, "zero"
That means that cases in which Kennedy sided with liberal justices, like on same-sex marriage or abortion, are going to come into play.
"Let's talk facts," Toobin said before issuing a warning: "You are going to see 20 states pass laws banning abortion outright. Just banning abortion. Because they know that there are now going to be five votes on the Supreme Court to overturn Roe V. Wade. And abortion will be illegal in a significant part of the United States in 18 months."
"There is just no doubt about that," he said. "Roe V. Wade is doomed. It is gone because Donald Trump won the election, and because he's going to have the chance to appoint two Supreme Court Justices."
Toobin also pointed out that Kennedy likely felt comfortable retiring because Trump nominated Neil Gorsuch to replace Scalia, instead of "some preposterous choice" like Fox News host Jeanine Pirro. (Don't relax just yet, it appears Don Jr. has already endorsed SC Justice Pirro).
Alan Dershowitz on Fox Business Network: This "continues the politicization of the court"
On Fox Business Network, Harvard Law Professor Emeritus Alan Dershowitz called in. He said he "wasn't surprised" by the move, but noted that Kennedy "will be replaced by somebody who is very conservative."
"It continues the politicization of the court," Dershowitz said. "The Supreme Court I think is becoming a less respected institution because it splits along party lines so often. And with Kennedy leaving, it the split along party lines even more often."
Fox Business Host Trish Regan made sure to pose the "crazy" question to Dershowitz: Would he consider a nomination?
"I'm too old," Dershowitz replied.
NBC News Justice Correspondent Pete Williams: This is "the biggest change on the U.S. Supreme Court in half a century"
Over on MSNBC, host Steve Kornacki referred to the news as "seismic," and sought analysis from NBC News Justice Correspondent Pete Williams — who called the news "the biggest change on the U.S. Supreme Court in half a century."
BONUS political hot take from Chris Matthews: If Dems take this lying down, there will be "hell to pay"
After reporting from Pete Williams, MSNBC turned to a very amped up Chris Matthews for a dash of political analysis:
"I don't think the Democrats should allow meetings to occur with Trump's nominee to fill this vacancy by Justice Kennedy," Matthews said. "I think they have to fight eye for an eye for what happened in '16 when the Republicans, led by Mitch McConnell, refused to even consider or even meet with Merrick Garland."
"If they allow Trump to fill the Supreme Court with another conservative who will not share Justice Anthony Kennedy's views on social issues like marriage quality," Matthews continued, the Democrats "will have hell to pay."
[image via screengrab]
—
Follow Aidan McLaughlin (@aidnmclaughlin) on Twitter
Have a tip we should know? tips@mediaite.com
Aidan McLaughlin - Editor in Chief