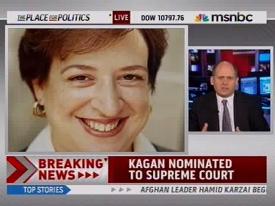 When Pete Williams of NBC broke the news at 10pmET on Sunday night that Elena Kagan would be Pres. Barack Obama's Supreme Court nominee, it signaled cable news would make the story a focus in the short and long-term.
So what would be Kagan's "wise latina" – the storyline closely associated with the nominee? We broke down the first 24 hours on cable news.
Before we get to the chart, here's how it works – we put Kagan and various other potential key words into TV Eyes, and found out how many times each cable news network mentioned the storylines during the first 24 hours of coverage. Overall, MSNBC mentioned Kagan the most times (100), compared to 93 for CNN, 54 for FNC and 30 for HLN. Check out the chart here, and we break it down below:
WHAT ARE THE CABLERS SAYING ABOUT ELENA KAGAN?
"Experience"

15

16

26

4

"Harvard"

22

36

33

14

"Liberal"

13

15

12

4

"New York"

8

11

9

1

"Single"

0

3

0

0

"Military"

15

13

8

1

"Socialism"

1

0

1

0

TOTAL KAGAN MENTIONS
54
93
100
30
Clearly the most-talked about storyline is her time at Harvard, followed closely behind (except on CNN) by "experience." It's fair to expect the two to go hand in hand – as the cablers discuss her Harvard work, they will also bring up her lack of judicial experience. Her being "liberal" or not will be a story as well, but not always for the same reasons. For example, the "liberal" mention context on Rachel Maddow's MSNBC show was drastically different than that of Sean Hannity's on Fox News.
Then there's the "military" issue. Fox News led the cablers during the first 24 hours in discussing Kagan, signaling what could be a sign of things to come. The storyline relates to her time at Harvard as well, but specifically in her fight to restrict military recruiters on campus due to "Don't Ask, Don't Tell." But while the policy is a storyline in and of itself, it could also mean commentators taking it to the next step – her take on the military in general.
One thing that is not being discussed on cable news (yet) is her personal life, as shown by the "single" statistic. CNN has made a few mention that she's single (also in the same sentence as her being from "New York), but the more her personal life is discussed – and so far it almost entirely has not – the more the story drifts back to territory cable news is reluctant to go.
Finally, not too many socialism mentions yet, including zero from Glenn Beck (on Fox News, although he did talk about it on his radio show).
—–
» Follow Steve Krakauer on Twitter
Have a tip we should know? tips@mediaite.com