Cable News Responded to the Debate Over Political Civility By Arranging a Bunch of Fights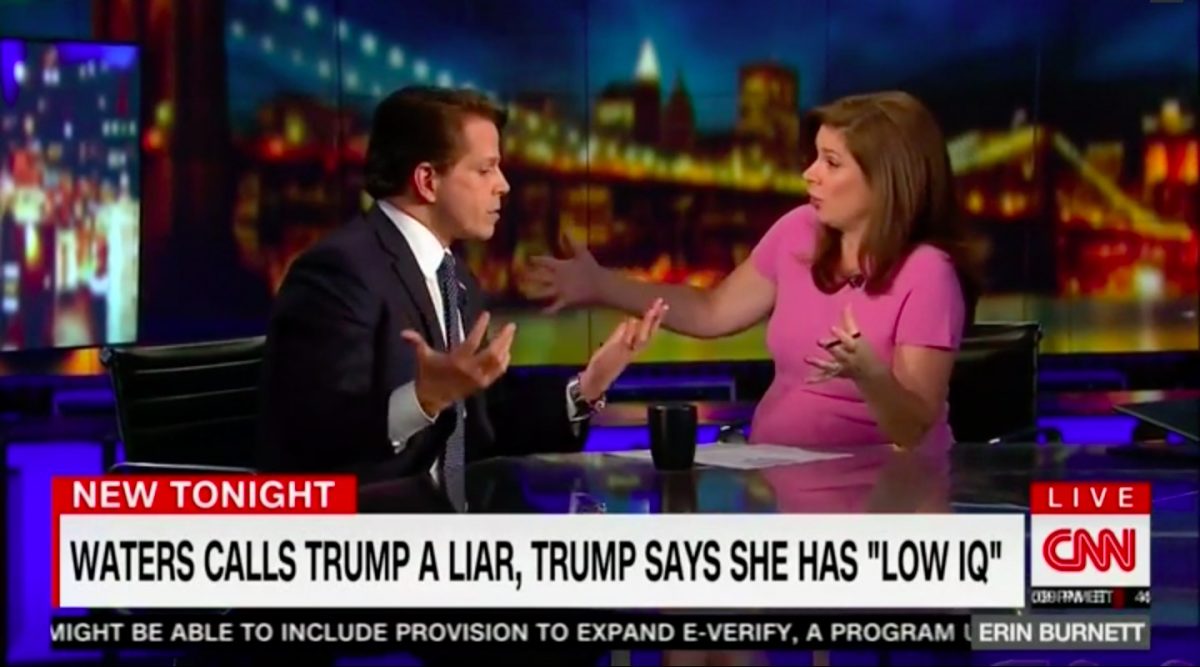 Rep. Maxine Waters (D-CA) started a political firestorm when she suggested that people will and should continue to harass Trump Administration officials when they're out in public – at a Red Hen restaurant, for example.
In light of these events, cable news reporters and pundits called for civility and respect for each other's views. So what did they do? Officiated and participated in a host of segments fighting over civility and respect for each other's views. Oh, the delectable irony!
More than that, people started getting snippy with each other — and that was likely by design. Liberals were invited on conservatively-inclined shows and vice versa. And notably incendiary figures like Anthony Scaramucci and Antonio Sabato Jr. were brought in to give their two cents.
Here are just a few:
A Fox News Panel Goes At It Over Civility Double Standards
Fox News' Neil Cavuto, and Democratic strategist Christy Setzer got into a heated spat over civility from the left as opposed to the right.
"I don't think that we have responded in kind," Setzer said of Democrats. She added, "[Trump] actively [asked supporters] to take violence against protestors."
Cavuto shot back: "You're fine with [Waters]. But it were done in reverse, you wouldn't be fine with it."
Antonio Sabato, the Guy Who Called Barack Obama a Muslim, Gets Pissed at Chris Cuomo
Chris Cuomo asked actor Antonio Sabato how he's going to get things done with Trump if both sides can't be civil to each other, recalling that Sabato claimed President Barack Obama is Muslim.
"How is that helpful?" Cuomo demanded of Sabato.
In response Sabato dismissed the question and spat back at Cuomo that "journalism is dead."
Outnumbered Wants Civility, But Jessica Tarlov Points Out That Trump is the Least Civil
"I think we have lost civility in the politics. You can't be a Democrat and Republican and sit down and have a meal together anymore," Richard Fowler said on Outnumbered, later adding: "People are so upset because a policy exacerbated by the Trump administration, by Jeff Sessions that have separated families."
"This was going on long before that, my friend," Melissa Francis sniped. "The truth is there is a lot of passion on both sides and once we move on to this place where we are encouraging violence then everybody is at risk and everybody is in danger."
Meanwhile Jessica Tarlov jumped to Democrats' defense, complaining that there is a "huge double standard" in civility, in that "Democrats get told to be civil all the time, and Trump won by being like this."
Erin Burnett Is Horrified At Scaramucci's Reaction to Trump and Waters
Erin Burnett grilled Anthony Scaramucci about Trump essentially threatening Maxine Waters, asking him: "Are you willing to call the president out and say that's not acceptable?"
When Scaramucci responded that Trump's trying to mobilize his base by fighting back against Waters and the media, Burnett went in for the kill: "So he just doesn't care? He doesn't care about doing the right thing? He doesn't care about elevating the conversation?"
Juan Williams Takes a Shot at Jesse Watters For Not Tying Trump's Behavior to Hate Crimes
"There hasn't been examples of the radical, violent, and hateful Trump supporters disrespecting people in public places…like is happening on the other side," Jesse Watters claimed to the panel on The Five.
"What do you call that lady getting run over a year ago in Charlottesville, Jesse?" Juan Williams asked incredulously.
"I wouldn't blame Donald Trump for that," Watters said. "I would blame the individual."
—-
Interestingly, a review of MSNBC over the past two days shows that network's civility debates were conducted in a respectful manner. Way to go, guys.
If we missed an MSNBC confrontation — or anything else, for that matter — alert us in the comments. But please, guys. Keep it civil.
[image via screengrab]
Have a tip we should know? tips@mediaite.com