Cable News Split On Japanese Earthquake Coverage: Big Event, Or 'Casual Friday?'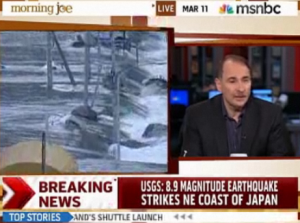 When a huge international story hits, most of us expect CNN will deploy its worldwide resources and swarm the story, which it did late Thursday and all night long. What's perhaps surprising to some is that by Friday morning, with the scenes of massive destruction apparent in Japan and tsunami waves threatening Hawaii and the U.S. West Coast, Fox News shifted from politics and chat on Fox and Friends for hard-hitting international coverage as well.
As TIME's James Poniewozik notes, "What was stunning is that the newsertainment show Fox and Friends—on Fox News, where international coverage has usually taken a back seat to opinion and domestic news—had more dedicated coverage and a more appropriate tone than its MSNBC rivals."
MSNBC, many have noted this morning, stayed with coverage of Wisconsin and regular updates on the story in Japan, as Poniewozik describes:
While most networks were showing video of wreckage in Japan and monitoring tsunami maps of the Pacific, MSNBC's Morning Joe spent a good chunk of its time on American politics: roundtables on the Wisconsin labor showdown, an interview with the state's governor, a chat with Pat Buchanan about the political effect of rising oil prices. To be fair, the network did carry earthquake news in its lower third and broke in for news updates; but it also kept up a bizarre, Casual-Friday tone, with Joe Scarborough bantering about the iPad 2 and the Vermont screensaver on his Blackberry.
For many, social media was a far faster–and far more thorough–medium for tracking the quake's aftermath in Japan, and its threat in the Pacific. When I asked via Twitter who had the best coverage Friday morning of the story, the first responses weren't cable news networks at all, but a Twitter hashtag: #hitsunami, an aggregation of tweets bringing a massive amount of individual reports, news stories and live video feeds into one column on Twitter.q
Have a tip we should know? tips@mediaite.com