Cain Campaign Manager Mark Block Falsely 'Confirms' Accuser's Son Works For Politico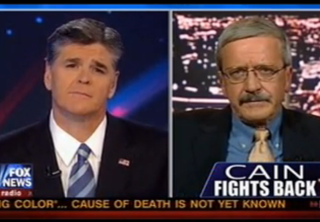 It's about time the Herman Cain campaign start to reconsider their official slogan, Let [Campaign Manager Mark] Block be Block." Block, the star of the now-infamous "Smoking" ad, went on Hannity tonight to give his take on the accusations before his candidate and delivered a totally unforced error by way of false family ties. Block told Sean Hannity that, after "connecting the dots," the campaign had "confirmed" that one accuser, Karen Kraushaar's son worked for Politico, the publication that broke the story. The problem? The journalist in question Josh Kraushaar, is not Kraushaar's son, nor does he work for Politico.
RELATED: Herman Cain Campaign Manager Mark Block: We've Discussed Suing Politico
Speaking to Hannity about the accusations, Block claimed that the reason for them surfacing is that Cain was "both the left and the right's worse nightmare." He then delivered a conspiracy theory about Kraushaar and her "son," Politico's Josh Kraushaar (who doesn't work for Politico):
You have all of these allegations coming out, you know, eight, nine days ago from Politico. You start connecting the dots and trying to figure out whether it's coming from opponents on the left or opponents on the right. I mean, just at the press conference it was brought up that… Karen Kraushaar came out as one of the women. So we've come to find out her son works at Politico, the organization that originally out the story out.
Hannity, somewhat surprised, asked whether the story was confirmed or not, to which Block answered in the affirmative: "We have confirmed that he does indeed work at Politico and that is his mother, yes."
A bemused Josh Kraushaar responds via Twitter: "no, not related to Karen Kraushaar at all. Block doesn't know what he's talking about." He had also confirmed he was not related to her before Block went on the air, so this mistake is more or less inexcusable from every angle. Kraushaar did work at Politico for some time, but has not done so for more than 16 months.
RELATED: Charles Krauthammer Sternly Advises Herman Cain To Stop Accusing People Of Setting Him Up
This error came about 20 minutes after, somewhat ironically, Charles Krauthammer had warned the Cain campaign to knock it off throwing blame all over the place on people without having the facts straight. But while Krauthammer was talking about allegations that couldn't be proven, Block's statements today were just patently, laughably false, and could put a damper on what many thought was a solid press conference from his candidate.
Update: Politico confirms this statement is false.
Block's statements via Fox News below:

Have a tip we should know? tips@mediaite.com