Call It a Day, Hillary: Donald Trump Secures All-Important Dan Quayle Endorsement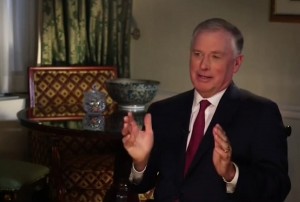 This should about wrap it up. On Thursday morning's edition of  CNN's New Day, Jamie Gangel metered out the first helping of her hot interview with former Vice President Dan Quayle, and although the former veep was a bit tentative in dipping his pota-toe into the Trump waters, he threw his support behind the presumptive Republican nominee, and advised other Republicans to do the same.
When asked if he would be voting for Trump, Quayle hedged a little bit, telling Gangel he'd vote for Trump "as of now, unless something happens that I don't know," but later in the interview, said that Republicans should either vote Trump or stay home in November:
Quayle said:
I'm sure that there will be some that will sit it out, maybe some that might even vote for Hillary Clinton. I hope those that have said they won't support him now will reconsider, and before they cast their vote on election day in November, would end up voting for him. If not, don't show up.
Gangel weirdly teased Quayle's picks for VP, then didn't play that part of the interview, then said she'd have that portion later in the day, but then spilled the beans anyway. It's Rob Portman, followed by Rubio and Kasich:
Spoiler alert, he actually thinks Rubio would be a good choice, or Kasich. I said neither of them, they say no, no, no. He said baloney, if you get the call, you say yes. But his top choice is Ohio Senator Rob Portman. A very serious guy with a big resume, that he thinks would send the right message to the GOP establishment that is very nervous.
Honestly, it was probably better coming from Gangel.
All kidding aside, Quayle's top pick for Trump's VP is a canny one, although not one The Donald will be likely to adopt.
Have a tip we should know? tips@mediaite.com