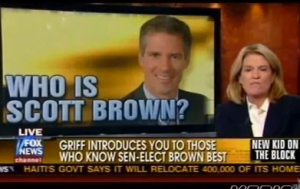 Howard Fineman wrote a piece in this week's Newsweek that declared that Fox News chief Roger Ailes "is the real head of the GOP." While it's easy to recognize the hyperbole in this comment, recent coverage of Scott Brown's victory in Massachusetts might make a skeptic see this as true, best evidenced by last night's report filed by reporter Griff Jenkins which summed up Brown thusly: Hero, Regular, Truck driver, President? Video and transcript below:
Transcript:
Griff Jenkins: We know he's from he drives a truck. A regular guy, but with extraordinary accomplishments: he is a Tufts grad, He has a BC Law degree, he's a Lt. Colonel in the National Guard, married to a local tv reporter, Gail Huff.

When we checked in on his high school we looked in his yearbook we learned a few little things, like his secret ambitions in life, In 1977 the year he graduated, were to be "outrageously happy and play for the Celtics". Well we talked to several people that know Scott Brown and here's what we've found.

Scott Brown grew up here in Wakefield, Massachusetts, graduated at Wakefield High Warriros in 1977. It was on this court that he earned the infamous nickname downtown Scottie Brown. (airball) Clearly I don't have what he had.

Jenkins: He was the homecoming king and the co-captain of basketball.

School Representative: Very popular. He took a lot of kidding over the Cosmo incident, the picture in Cosmo. But he never let too many things — nothing really got to him as far as being nervous. He just decided this is what I'm going to do and he was able to do.

Jenkins: Scott Brown still holds the record for the mile relay set in 1976. His track coaches still teach track here at the school.

Coach: Fatigue was never a word with Scottie. He wind about to give up. Call him an undoing at the beginning that made him feel better, i think

Coach: We are proud of all our students, not only Scott. but he has set a high example of what our boys and girls can do if they are willing to work at a project. They can succeed and have success. And he has given them that example.

Jenkins: What does America need to know about scott brown?

Subject: trust him.

Jenkins: what does America need to know about him?

Rep: I think Scott acknowledges he's got a learning curve going to Washington learning the rules of the senate and the ways. scott is a tenacious campaigner, tireless worker. so i think he's going to roll up his sleeves i think the nation will see him get very involved. i think they are going to be interested to know he's the routine guy from Renthem, puts out his crash, gets his mail. Really always wanted to be someone — was what he represents.

Jenkins: We are at the gas station where Scott gets his pick-up truck worked on. Joe Pindola is probably the last guy to work on the trouble what is the truck like?

Mechanic: He keeps it up, keeps service, runs great. 200,000 miles on it now i think.

Jenkins: rob has lived next door to scott brown for 20 years. you are here at the end of the cul-de-sac. now senator elect scott brown in the house behind me. what is it like?

Neighbor: he mows his lawn, takes out the trash. he doesn't have a fancy car that's his truck that is his truck.

Jenkins: he does drive a truck? the time you've known him?

Neighbor: yeah. that truck served him well.

Jenkins: That truck has served him well. Greta we found he's immensely well liked and trusted. some folks that knew him actually mentioned the "president" word which may be getting ahead of themselves. However, let's not forget in guy has a lot of political moxy. he ran for a seat that many thought was unwinnable for a Republican and he did it. now steps on to the national stage. We are going to dig into his political background and find out just a little bit more about him.
Have a tip we should know? tips@mediaite.com