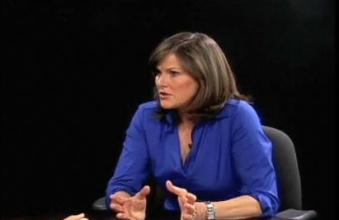 CNN's Campbell Brown was interviewed on Julie Menin's Webcast, and touched on her usual points concerning CNN's prime time journalism cred as compared to the opinion hosts on the competitors.
After seeing the HuffPost headline, Greta Van Susteren of FNC decided to weigh in and counter Brown.
Here's some of what Brown had to say:
CNN is the only one who is still doing journalism. I don't mean that as a criticism of what the other guys are doing, it's just, we're comparing apples and oranges. Fox has made a choice to go in one direction, MSNBC has made a choice to go in the other direction…You are, in all likelihood, going to get a bigger rating when you do opinion rather than straight news because you have a built-in audience. There are a lot of people who want to be in an echo chamber and want their views validated.
To be fair, the conversation started about her 8pmET competition, but it continued as a broader debate. In a blog post late last night, Van Susteren wrote, "While I don't want to engage in a verbal duel, ON THE RECORD at 10pm has been steeped in economics, finance, government, bailouts, economy and politics (and yes, crime and we did some Michael Jackson) so I find it hard to think we are not 'doing journalism.'" (Another line Greta may be interested in: Brown on tabloid elements in news – "There are other shows that specialize in that. That's what they do. I don't like the missing girl of the week story.")
But while Brown was on the "doing journalism" storyline, she was also asked about her network's huge Michael Jackson coverage – coverage that was far more massive, even, than the other cable news outlets. Here' show Brown justified the "journalism" of MJ:
We covered it. Did we go overboard? I don't know. I don't want to be above the news either when there is something that is attracting that level of interest, I want to cover it…I get that ratings was driving a large part of it. Michael Jackson got enormous numbers. Just look at the number of people who watched the day of that memorial service. But I have a boss who was literally calling all of us and saying 'Okay, you've been doing really well with Michael Jackson, I know you're getting a big rating, but there's a lot of other stuff going on in the world and you need to cover it.
First of all: Jon Klein was asking the prime time shows to stop covering Jackson? Did they? Because it seemed to take a while for the coverage to fully subside.
But look, Brown admits it. Ratings was a "large part" of the reason for the coverage, and that is not journalism. It's hard to fault CNN, or Brown specifically, who have struggled in prime time since the '08 presidential election. But just because the coverage isn't "left" or "right" doesn't make it automatically more capital J journalism.
We'll see if Greta has anything more to say on the matter – keep an eye on Gretawire.
Note: Thanks, Campbell for the (unnamed) shout-out over how we dared to ask for a statement about why CNN was staying wall-to-wall for Sotomayor hearings Day 3.
Check out the full video:

—–
• Follow Steve Krakauer on Twitter
Have a tip we should know? tips@mediaite.com