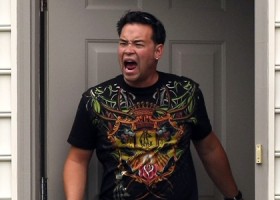 Maybe it's the suspenders.
Or maybe it's the fact that this snazzy 75-year old shops at Juicy Couture, but for whatever the reason, "celebrity" douchebags alike think that Larry King can save them from their swift decline into official American public scum.

Jon Gosselin told King on Larry King Live last night that a sudden "epiphany" (after four years of taping the reality TV show,  Jon & Kate Plus 8, for the TLC network) made him finally realize that subjecting his 8 young children to constantly being filmed (and now during a highly publicized/messy divorce) might not be so healthy.
Suspiciously enough, Gosselin's appearance on the show came two days after TLC officially announced that their most popular TV show would be changing its name to Kate Plus Eight and that Gosselin would no longer be an integral part of filming, which thanks to the public's weird fascination and hankering for all things dysfunctional, has caused the ratings to drop.
During the segment in which Gosselin, who's face has been plastered on numerous tabloid covers this past year with rumored and confirmed accounts of cheating on his wife, very strategically avoided Kings' important questions (mainly the one where King confronted Gosselin on the fact that his sudden utter despair over his children being filmed came right after the network decided to pretty much cut him out of the show).
His well choreographed tap dancing routine around certain questions and very convenient epiphany are pretty reminiscent of Chris Brown's sudden (selective) amnesia during his desperate attempt to look like less of a girlfriend beating douchebag on Larry King Live back in August.
But even with a powder blue bow tie and his mother in tears by his side, it's pretty clear by these comments from the Larry King Live blog and this poll on the New York Daily News website, that it's gonna take way more than a suspender wearing, juicy couture shopping TV host to get America to like him again.
So if Brown, who unlike Gosselin actually has some sort of talent to rely on along with a pretty devout fan base, couldn't get a bone thrown at home after Larry King Live, well, then, let's just say, Gosselin is pretty…f*cked.
Have a tip we should know? tips@mediaite.com