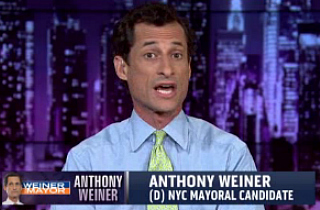 After an embarrassing electoral defeat on Tuesday night, it's safe to say Anthony Weiner is gone from politics. And good riddance — the less power-hungry narcissists in power, the better. Though that's wishful thinking, right?
While many speculate on Weiner's future career prospects, here's one job that actually embraces the egomaniacal side of humanity: Cable news host.

No one should live under the delusion that cable news primetime programming exists to inform audiences. It's just entertainment; like pro-wrestling. And you can bet Weiner and his parade of penis pics would be willing to play that game.
Over the past several years, Weiner has consistently shown that he can act without regard for other people's feelings; he is unafraid to confront his opponents; he has strong opinions about seemingly everything; he's good at yelling; and he has name recognition that he would love to continue riding.
What does that all sound like? A cable host!
-RELATED: Anthony Weiner Goes Out in Style: Flipping Off an NBC Reporter
MSNBC's decision to give a weekly primetime show to temperamental actor Alec Baldwin was criticized by many as dragging "the discourse" down even lower. But, come on — this is cable news we're talking about. The so-called National Conversation™ isn't really affected by what the opinion-tainers say on a nightly basis. We viewers just tune in to see some fierce battles and shout-fests.
For proof of Weiner's on-camera abilities, look no further than his Monday night trainwreck interview on MSNBC. When Lawrence O'Donnell struggled to coherently skewer Weiner, the mayoral candidate turned the segment around and viciously mocked his host. He was unafraid to ridicule O'Donnell; and he did so with a cocky swagger ("Just chillax!") that somehow outdid O'Donnell's famously oozing brand of condescension.
And now imagine those kinds of can't-stop-watching tussles with Weiner in the driver's seat.
Despite his hilarious last-place finish, Weiner's going to continue clawing at America's leg, begging for attention, whether we like it or not. So why not put him somewhere that attention-whoring will actually be useful?
And so, Mr. President of Cable News, it's time to add another treasured host to your roster: Anthony Weiner.
— —
>> Follow Andrew Kirell (@AndrewKirell) on Twitter
Have a tip we should know? [email protected]