Can We Talk About That Awkward Kiss Between Hillary Clinton and Jake Tapper?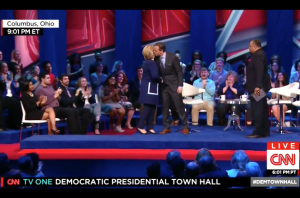 I recoiled in awkward discomfort watching Hillary Clinton's entrance onto the stage during tonight's Democratic Town Hall on CNN. Moments after Vermont Senator Bernie Sanders exited stage left, CNN's Jake Tapper welcomed the former Secretary of State to the stage at Ohio State University, and in one of those uh-what-just-happened moments, Tapper found himself reaching out for a peck on the cheek from Clinton.
Realizing the fact that she had just kissed her Town Hall moderator, Clinton then doubled-down, offering one to the event's co-moderator Roland Martin as well before settling in for her first question. All's well here, nothing to see folks.
It seems to have been a mistake, with Tapper simply greeting Clinton and helping her up onto the stage, which mortifyingly melded into maybe the slowest two seconds of Tapper's professional career.
This sort of thing is goofy and hysterically awkward in my opinion, especially because I can't imagine Tapper EVER intended to kiss Clinton. It's harmless and not deserving of one of those "is it appropriate?" questions in my opinion. I have no doubt that Tapper and Clinton have known one another for several years, and as we've seen elsewhere, the relationships between pols and the media are frequently more personal than the viewing public would ever realize. But tonight's kiss certainly makes for an uncomfortable way to lead off into a set of questions intended to be tough and engaging for an Ohio crowd two days before their state-wide primary. For the record, Tapper did not kiss Bernie Sanders when he took the stage Sunday night.
But watch the above video from CNN and judge the awkward moment in question for yourself. Even more awkward and silly? The recollection I had — and my memory proved correct — that Jake Tapper once dated Monica Lewinsky and wrote about it in the late 90's.
Pucker up, folks.
This is an opinion piece. The views expressed in this article are those of just the author.