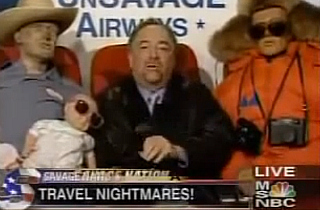 Over the past half-year, a lot has been said about MSNBC's open shift away from breaking news coverage into straight-up progressive political commentary. It's no secret that the network's talent roster is now unabashedly liberal, but it's interesting to recall that, a decade ago, the network had a significantly different face.
How different? Well, consider this: Between 2002 and 2004, you might've watched an MSNBC show hosted by Alan Keyes, Tucker Carlson, Jesse Ventura, Pat Buchanan, or Michael Savage.
That last example is especially significant because this month marks the tenth anniversary of one of the greatest on-air right-wing meltdowns in cable news history. And it happened on MSNBC.
It really does feel strange to type today, but it was July 2003 and Michael Savage hosted a weekend show on MSNBC. That show, The Savage Nation, was a full-hour broadcast that debuted to much consternation from the gay and Arab rights groups who had long battled the host. And only four months into broadcast, their complaints were realized when the network was forced to remove Savage. Here's why:
Surrounded by mannequins and baby-dolls wearing sunglasses, polo tees, and snow jackets (because of some story related to airline horror stories?), Savage concluded his July 5th, 2003, show by taking viewer calls. As he went to an unnamed caller, the host put on sunglasses (because why not?) and listened in as the man rambled a bit:
"Hey, Michael Savage, pleasure to speak with you today. I was flying down to LaGuardia and there was two undercover security guards. Somebody was smoking in the bathroom," the man said. "What?" You're probably thinking.
"Somebody was smoking the bathroom? Okay, what happened?," the host coolly replied.
"Half hour into the flight, I need to suggest Don and Mike take your [unintelligible] because your teeth are really bad," the caller shifted gears. And… we're off. Next came the homophobic exchange that ended it all:
SAVAGE: Oh, okay, so you're one of those sodomists? Are you a sodomite?

CALLER: Yes, I am.

SAVAGE: Oh, so you're one of those sodomites. You should only get AIDS and die, you pig.

[OFF-CAMERA VOICE: Whoa!]

SAVAGE: How's that? Why don't you see if you can sue me, you pig? You got nothing better to do than to put me down, you piece of garbage? You got nothing to do today? Go eat a sausage, and choke on it. Get trichinosis. Okay, do we have another nice caller here who's busy because he didn't have a nice night in the bathhouse who's angry at me today?
"Whew," exclaimed an off-camera crew member, clearly understanding the magnitude of what just happened. But Savage persisted, concluding his MSNBC career with these final words [emphasis added]:
Get another — put another sodomite on. Oh, no more calls? Then let's go to another scene. I don't care about these bums; they mean nothing to me. They're all sausages.
Savage was fired the next day. "His comments were extremely inappropriate and the decision was an easy one," MSNBC's spokesperson said at the time.
How a network can change so dramatically over ten years…
Watch the moment below and #neverforget, via MSNBC:
— —
>> Follow Andrew Kirell (@AndrewKirell) on Twitter
Have a tip we should know? tips@mediaite.com