'Can You Stop Being A Jerk?' Piers Battles GOP Lawmaker Who Wants To Torture 'Scumbag' Behind Bombings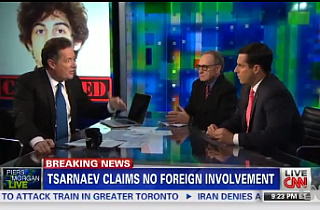 Last night on CNN, Piers Morgan and New York Republican State Sen. Greg Ball got into quite the tense exchange over the desire to torture the currently hospitalized Boston bombing suspect Dzhokhar Tsarnaev. Throughout the battle, Ball repeatedly mocked Morgan, calling him "dude" and joking about his British accent.
The entire debate came from a tweet Ball sent out on Friday night, upon Tsarnaev's capture in Watertown, Mass., reading: "So, scum bag #2 in custody. Who wouldn't use torture on this punk to save more lives?"

Morgan read this as an endorsement of the torture of American citizens in situations where it could potentially save lives.
"I think that I share the feelings of a lot of red-blooded Americans who believe if we can save even one innocent American life — including as we've seen the killing of children — that they would use every tool at their disposal to do so," Ball explained to Morgan after touting himself as a politician who is willing to say what he feels.
Noting the illegality of torturing an American citizen suspected of a crime, Morgan then asked: "How are you going to torture him?"
"Dude, you're talking to a guy who supports death penalty for cop killers, terrorists," Ball replied after Morgan questioned how he could torture a citizen. "I'm talking about me. If you want to talk to the president about his policies, the next time you golf or go play basketball with him you can ask him."
After receiving some pushback from Morgan, Ball reiterated that this is just what he would do if given a baseball bat and a private room with "any of these scum bags" like Tsarnaev or the recently-killed Osama bin Laden. "As for American policy, you gotta take it up with your man," Ball told Morgan, referring to President Obama.
An unrelenting Morgan continued to press Ball on whether he'd make it a policy to torture people like Tsarnaev in these extreme situations. But with a single eyebrow perpetually raised, the Republican lawmaker asked the CNN host what he would do if given a chance to meet with the Boston bombers before they committed the crimes.
"What would you do, play cards?" Ball asked. "Maybe I should have said it in a British accent. These men killed innocent men, women and children."
"Can you stop being such a jerk?" Morgan shot back.
"Oh, you do that. You get paid for it," Ball responded. "You don't like it when you don't have another bobble-head that you can beat up and treat like a coward?"
After Ball reiterated his desire to torture a suspected terrorist despite American citizenship, Morgan sarcastically remarked: "That's very macho."
"It's not about being macho," Ball retorted. "If I wanted to be macho I'd challenge you to an arm wrestling contest."
Watch the exchange below, via CNN:
[h/t
TheBlaze
]
— —
>>
Follow Andrew Kirell (@AndrewKirell) on Twitter
Have a tip we should know? tips@mediaite.com