Cancer Survivor Bob Schieffer Confronts Herman Cain About Smoking In His Viral Campaign Ad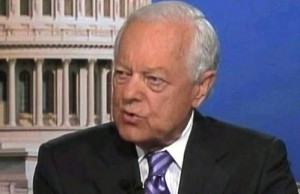 Herman Cain did his best to explain the message behind his bizzare, confusing, did-Salvador-Dalí-direct-this campaign ad released last week, but Bob Schieffer was most concerned about the depiction of smoking in the ad, and told Cain he thought it was an inappropriate message to send out to the American people.
Schieffer first decided to ask the question we were all asking when we saw the ad. Aside from "what the hell did I just watch?" No, Schieffer asked Cain how exactly the smoking fit into the message of the ad. Cain responded with what I can only describe as Level 4 Jedi mind jujitsu.
"One of the themes of this campaign is 'Let Herman be Herman.' Mark Block is a smoker, and we say 'Let Mark be Mark.' That's all we're trying to say, because we believe 'let people be people.'"
RELATED: Star Of Herman Cain's 'Smoking Ad': No Subliminal Message Was Intended
But when Cain argued that the ad "wasn't intended to send any subliminal signal whatsoever," Schieffer disagreed, suggesting the ad made smoking look "cool." Because nothing says cool like a middle-aged man with a slightly disturbing mustache blowing smoke while the camera is super-zoomed-in on his face. Cain made it clear that he's not defending smoking as a lifestyle choice, but acknowledged his chief of staff is courteous enough to never smoke in his presence.
Schieffer still couldn't discern what the point was, and asked if the smoking was meant to be funny. Cain insisted it was an "informative" ad, because it conveyed the information that "there's no one like Herman Cain." Schieffer wasn't buying any of this, and let Cain know what he thought of the ad.
"It wasn't funny to me… I am a cancer survivor, like you. I had cancer that's smoking related. I don't think it serves the country well, and this is an editorial opinion here, to be showing someone smoking a cigarette. And you're the frontrunner now, and it seems to me that as frontrunner, you have a responsibility not to take that kind of a tone with this. I would suggest that perhaps as the frontrunner you would want to raise the level of the campaign."
Schieffer wanted to know if the Cain campaign would take the ad down, but as Cain rightly pointed out, once you put something on the internet, it's out of your hands. And then, Schieffer basically goaded Cain into an impromptu PSA about the dangers of smoking, and the candidate insisted "it is not a cool thing to do."
However, leaving aside the message of it all, it's probably not a good idea for a candidate to be associated with the term "blowing smoke."
Watch the video below, courtesy of CBS:
Have a tip we should know? tips@mediaite.com
Josh Feldman - Senior Editor