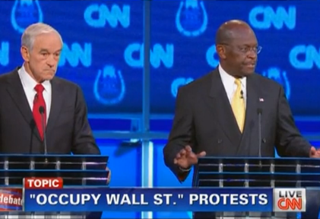 Tonight's CNN Republican 2012 primary debate will definitely go down as the liveliest of the campaign cycle so far for candidates going at each other's policies with zest. In one memorable moment however, it wasn't the candidates going after each other that made for a memorable quote, but one candidate standing by what many considered to be a callous comment about the popular Occupy Wall Street movement: yes, Herman Cain still thinks it's your fault you don't have a job.
With the topic coming up in the debate in general, Anderson Cooper turned to Cain to ask whether he stood by comments he made earlier during the movement, when he told the protesters to "blame yourself" for being poor and not having a job. Asked whether he stood by the comments, he replied flatly, "yes," elaborating that "they ought to be in front of the White House protesting."
Somewhat surprisingly, it is Rep. Ron Paul that responded somewhat more warmly towards the protesters, saying, "Mr. Cain has blamed the victims" and that, while some are to blame for their own misfortune, it was Washington and the Federal Reserve that deserved much of the blame. Cain took the opportunity to reply to Rep. Paul that he simply didn't understand what protesters were looking for: "What do the people protesting want from bankers, for the bankers to come down and give them a check?"
The other candidate to receive the question, Mitt Romney, responded with little about the protesters, instead turning the question on President Obama and reminding the audience of his experience creating jobs.
The segment via CNN below:

Have a tip we should know? tips@mediaite.com