Candy Crowley Grills Leon Panetta On Benghazi Response Time, Panetta Hits Back: 'This Is Not 911'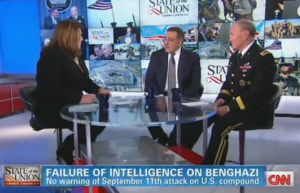 On this week's State of the Union, host Candy Crowley grilled Defense Secretary Leon Panetta on the handling to the attack on the U.S. consulate in Benghazi. Pressed about not having a rapid enough response, Panetta shot back, "This is not 911."
One of the "outstanding questions" surrounding Benghazi, Crowley said, is why there wasn't someone to come help. Intelligence didn't provide any warning it was going to happen, Panetta replied.
Looking at a 7-hour time frame, Crowley questioned whether a strike force couldn't have gotten there in time to provide some sort of service. Panetta pointed to some difficulties in dealing with the Middle East.
"You have to be able to rely in part on their capability to provide security," he said. "Secondly, you've also got to be able to harden the facility so that it is well protected. And thirdly, if none of that works, then obviously you've got to have a response team that's ready to respond. But to do that, you've got to have intelligence that tells you this is trouble, there's a risk here."
Crowley replied, "You had an ambassador telling people there was trouble."
"This is not 911," Panetta responded. "You cannot just simply call and expect within two minutes to have a team in place. It takes time. That's the nature of it. Our people are there, they're in position to move, but we've got to have good intelligence that gives us a heads up that something's going to happen."
"Better intelligence" would have helped with the response, Panetta said.
"In these situations, you've got to look at what we we're facing, what we knew, what intelligence we had in order to respond," he said. "Admittedly, better intelligence about what was taking place there would have given us a head start."
Take a look, via CNN:

Have a tip we should know? [email protected]