CNN's Candy Crowley Grills Senior Obama Adviser On Obama's Underwhelming Campaign Message
Candy Crowley Grills Sr. Obama Adviser On Obama's Underwhelming Campaign Message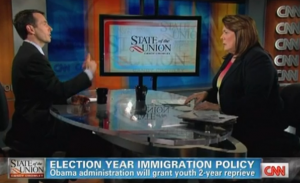 Among David Plouffe's many Sunday morning interviews was one with CNN's Candy Crowley, who grilled the Obama senior adviser on many aspects of the president's policymaking and campaigning, particularly narrowing in on Obama's using an executive order to enact his immigration policy.
Crowley first pointed to the fact that Obama's 2012 campaign message seems to essentially be the same as his 2008 message. Is this is him acknowledging that he hasn't been able to achieve his goals? She asked, "Is that his message? That we have a lot more work to do?" Plouffe reverted to Obama talking points about the "choice" between Romney's backwards policies and Obama's capital-F Forward ones.
"Those are goals that he's setting out, but it's not a plan," Crowley remarked. She further said there aren't any big ideas, just a "stay the course" message, which Plouffe didn't take kindly to. What's the plan? How can Obama convince voters that four more years will result in more progress? Crowley didn't buy into Plouffe's laundry list of accomplishments regarding education, clean energy and the economy. Plouffe further went on to criticize the Congress that's standing in the way, but Crowley said nothing "in the cards" signals Obama will get a better Congress or that any factors will change significantly.
She then turned to the new immigration policy, asking why the Obama administration waiting this long to tackle an issue the president supposedly prioritized — before also asking whether going through Congress would be the more "appropriate" path.
As Plouffe evaded, Crowley circled back to the point she was emphasizing: Obama's going around Congress to get what he wants. "There's three branches of government, you know how this works," Crowley lectured him. Plouffe's answers boiled down to: This is not permanent, this is not amnesty, this is not permanent. For a permanent solution, he said, the administration would go through Congress (also pointing out Romney's lack of support for the DREAM Act).
Needless to say, Crowley was far from impressed with any of Plouffe's answers.
Take a look, via CNN:

Have a tip we should know? tips@mediaite.com