Candy Crowley Responds To Criticism Over Libya 'Fact-Check': I Wanted To Move Conversation Along
CNN's Candy Crowley Responds To Criticism Over Libya 'Fact-Check'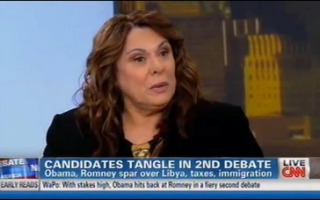 Presidential debate moderator Candy Crowley appeared on Starting Point Wednesday morning, where she addressed some critics' complaints that she overstepped her role as moderator by correcting candidate Mitt Romney's remark about how long it took President Barack Obama to call the attack in Libya an act of terror.
Crowley shared that Romney was actually the first person to come up to her and thank her on a job well done after the debate wrapped up, adding that she didn't see, at the time, that there was any animosity between the candidates or between herself and the two men.
Host Soledad O'Brien presented Crowley with made by comment Romney running mate Paul Ryan on his morning show rounds this morning: That Crowley has "already back-tracked" on her remark.
"Listen," Crowley explained, "what I said on that stage is the same thing I said to you, actually, last night."
I was trying to move this along. Because we were… The question was Benghazi. There is no question that the administration is quite vulnerable on this topic, that they did take weeks to go, "Well, actually, there really wasn't a protest and actually didn't have anything to do with the tape." That took a long time. That's where he was going. That was his first answer. And then we got hung up on this, "Yes, he said. No, he didn't. Yes, I said terror. You didn't say terror." And then there was this point they both kind of looked at me. You know, he was looking at me and the President was looking at me. And what I wanted to move this along, could we get back to this, so I said, "He did say acts of terror, called it an act of terror. But Governor Romney, you are perfectly right that it took weeks for them to get past the tape."
O'Brien noted that both parts of her comment drew applause from different segments of the audience.
Fellow guest Jason Chaffetz took the opportunity to confront Crowley, saying that, while he has the greatest respect for her and realizes moderating is immensely difficult, he "just felt that, personally, that was the one time where I felt like there was a genuine disagreement between the two candidates and I felt like it wasn't necessarily your place to try to be fact-checker right there. I happen to think that your assessment of that was wrong. And so I was a bit frustrated on that particular part. But I thought you did great on other parts of it. But I really felt like you have two candidates disagreeing and it's not the role of the moderator to say, 'Well, Mr. President, you're right, or Governor Romney–"
Watch, via CNN:
Have a tip we should know? tips@mediaite.com