Candy Crowley To Gov. Rick Scott: 'Why Did It Take You This Long' To Act On Trayvon Martin Case?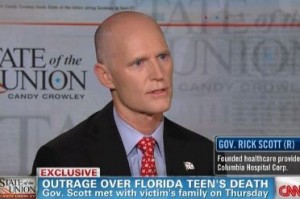 Candy Crowley interviewed Florida governor Rick Scott on CNN's State of the Union, and obviously the big topic of conversation was the killing of Trayvon Martin by George Zimmerman while he was on neighborhood watch. Crowley grille Scott on why it took him almost a month to finally act in the case. Scott defended himself by saying he wanted to wait until all the facts are in, and wants to give the special investigation time first before any charges are filed.

RELATED: George Will On Trayvon Martin: 'Stand Your Ground Law Is A Bad Idea'
Crowley brought up Florida's controversial "stand your ground" law that protects people if they kill or hurt someone in self-defense. Governor Scott is currently reviewing the law, and he immediately told Crowley that he spoke to the Martin family personally and promised to do everything within his power to put the full power of the law behind them.
Crowley asked the governor if the situation "look[s] like a race thing" to him. Scott did not comment on that particularly, but said he would certainly be looking at any and all evidence the investigation turns up. Crowley said that one of the criticisms Scott has faced is that he didn't really do anything up until this week, when the case happened roughly a month ago.
"It took more than a month for anyone to notice this case, and that includes you, because this week was when you appointed, switched attorneys, and when you appointed the task force. Why did it take you this long?"
Scott said he couldn't appoint a new state attorney until the current one withdraws, and defended himself by saying he didn't act until he had more information on it. promising a full investigation on the matter in the near future. Crowley finally asked him about the death threats against Zimmerman, and Scott said he will make sure Zimmerman is given due process as he is entitled to.
RELATED: Trayvon Martin Shooter George Zimmerman Leaves Supporter Friendly Voicemail
Watch the video below, courtesy of CNN:
Have a tip we should know? tips@mediaite.com
Josh Feldman - Senior Editor