Cardinal Dolan On Church And Gays: 'We Haven't Been Too Good' At Including Them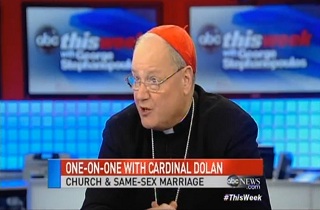 Cardinal Timothy Dolan of New York told ABC's George Stephanopoulos that he thinks the Catholic Church could do a lot to improve its relationship with gays and lesbians. Dolan told Stephanopoulos on This Week that the Church isn't "anti-anbody."
Dolan acknowledge that gays and lesbians feel unwelcome in the Church but the Church doesn't want them to feel that way though.
Stephanopoulous asked Dolan about how he would respond to a hypothetical gay Catholic couple that wanted to be active in the Church and raise a family in it. "God loves you and you were made in God's image and likeness and we want your happiness," he said he would tell them but added that
"We gotta do better to see that our defense of marriage is not reduced to an attack on gay people. And I admit, we haven't been too good at that. We try our darndest to make sure we're not anti-anybody," Dolan said.
Dolan struggled with a way to articulate how do make gays and lesbians feel welcome though, admitting that he is not sure of how to do that.
"I don't know. We're still trying. We're trying our best to do it. We gotta listen to people," he said. "Jesus died on the cross for them as much as He did for me."
Dolan would not redefine the Church's position though, emphasizing that marriage is "for a man and woman…where children can come about naturally."
"You got a point, sometimes we're not as successful or as effective as we can be in translating that warm embrace into also teaching what God has told us about the way He wants us to live," said Dolan.
Watch clip below via ABC
Have a tip we should know? tips@mediaite.com